Tags
1800s, 19th Century, Alochol, Books, Dogs, Drink, Gentlemen, Leisure, Literature, Non-Fiction, Pet, Shopping, Technology, Travel, Victorian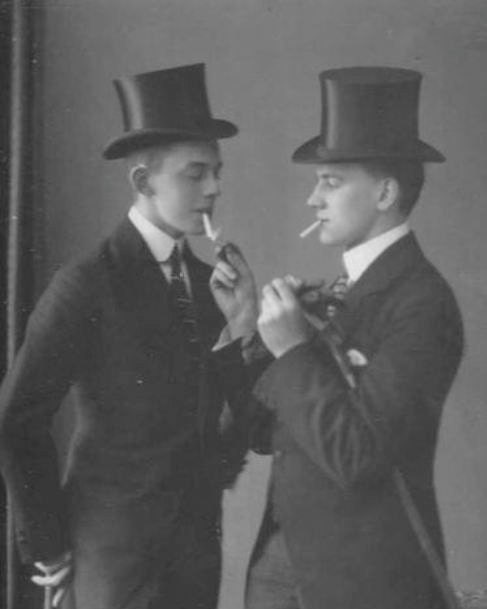 After a few years of covering Mother's Day for May's shopping post, I broke new ground last year and focused on photography related items. This year, I am honoring my eldest cousin, Bernard who was born on the 25th of the month. Yes, it is his real name. No, he has never gone by that moniker. After looking at this slice of Victoriana representation of him, perhaps you will get a better feel for the man. All images are linked to their seller's page, unless otherwise noted.
Bernard is a self-made man, who has had many jobs and has worked for himself in various business throughout his life. The walls of his home office are lined with self-wealth books. He already owns a copy of this title, but this 1910 is wealth management cannon. I just added it to my own To Read List.
As long as I have known Bernard, he's smoked. I am not sure where and when he picked up the habit, nor am I encouraging others to try, however some Moderns use them card cases/wallets . . . but there's this pretty cigarette holder . . . . My cousin is not an ornate man. He enjoys his simplicity in craftsmanship. Below is a Russian version made by a gentleman whom used to work for Faberge.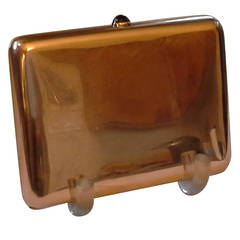 What is a man without a best friend? Bernard loves his dogs and prefers the sleek short hair females. He's had Basenjis and Miniature Pinschers. A Pharaoh Hound might be along the same lines. Perhaps a lovely name like Hatshepsut, Nefertiti, or Cleopatra would be fitting. While my cousin is partial to purebreds, I highly recommend adopting instead. The little cutie below is not for sale but many other are available for adoption at Petfinder.com.
My cousin is predominately a realtor, whom occasionally flips small homes. He has inspired me to go into real estate, as well, granted I have not made the official leap just yet, but he is teaching and advising me about the housing business. With small homes as a focus, this adorable one story Victorian cottage is available in Georgia at rock bottom price! White picket fence included! More photos can be seen by clicking on the image.
Bernard is a part of the LGQBT community and does enjoy his nights out with his friends at the club houses every so often. He likes the clean shaven youthful looking men. Ideally Hispanic, but he's not particularly picky he says. Someone who likes the club house scene, but can also be a mature adult. The gentleman below is not for sale, either as a human being (he's dead) or as a portrait (it's in a museum). Titled: "Self portrait by Leon Joseph Florenitin Bonnat.
Because his jobs are rather mobile, he is constantly on his telephone. Forever making calls, setting up meetings, dealing with clients, contractors, or just chatting with friends. He would not have been so carefree in the 19th century where loads of wires were adhered to the phone on short cords. The sleek black Jydsk hand crank pillar table telephone is actually available for sale.
Aside from his real estate profession, Bernard recently became certified to be a travel agent. So he has started up that business, just this year. It was spurred by many of the cruises he's been on in the decades. The Hotel del Coronado in California, might be a place he would book for you. 19th century seaside resort with beautiful beaches near by. The link takes you to the hotel's reservation site.
For those people who consume alcohol many have a particular favorite that becomes an old standby. Others go so far as to discriminate to a specific brand. Bernard, just likes his Vodka. Typically straight or on the rocks. If he is feeling feisty he might opt for the flavor version or any cocktail which includes his beloved booze. The Russian brand, Smirnoff is the number one best selling vodka brand in the world. It was established around the 1860s and was considered a favorite among the Tsar. Photo is not linked as one can purchase, Smirnoff in just about any store that sells alcohol in the United States. Bottoms up!