Tags
1800s, 19th Century, Books, Furniture, Games, Ghost, Hotel, Leisure, Magic, Museum, Shopping, Toy, Travel, Victorian
Mid week is the perfect time for retail excursions. The stores are less crowded and the merchandise is still fresh enough. As I often do with my shopping posts, this particular one is inspired by someone I know. For the first time, I'm tapping a co-worker! One of our "guy-brarians" as they are called in the profession. Mr. B is actually the children's librarian where I work. He recently celebrated his own birthday last Wednesday. Below are some things he's into a professional and personal level, with a 19th century slant of course.–Of course! **All items below are for sale and linked to their purchase page, unless otherwise stated.**
Mr. B is known at the library for his Puppetry and technology integration in all his children's programs. Below is are some mid-1800s puppets on sale.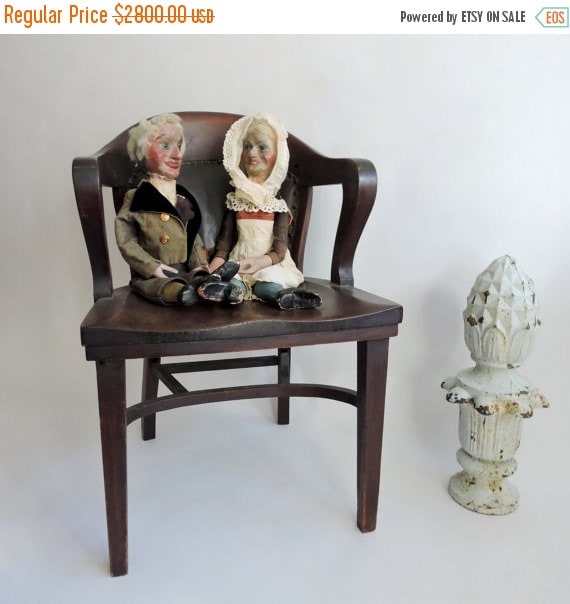 Our resident "guy-brarian" often visits museums every place he travels. If you ever find yourself deep in the wilds of western United States, head over to the Sanguinetti House Museum in Yuma, Arizona. While I have been to many museums in Arizona, this one I haven't had the please to visit yet. The fee is only $6 for adults.
Mr. B is a big fan of the circus. How very 19th century! He loves the showmanship and organized chaos of the fantasy and daring. While no where near as hyped, but certainly eye catching is a 19th century ink well in the likeness of a circus elephant!
One of his favorite places to travel is New Orleans, Louisiana. I have been there myself and am familiar with the allure and magic of the place! The 19th century fan below has its roots in NOLA fairy tales and solid historical context.
Mr. B also loves amusement parks and parlor games.–He's a fun guy. For something truly unique, I stumbled upon a cast iron parlor shooting target. I completely forgot about this form of Victorian "amusement!" The link goes into more detail how it was utilized. –Times certainly have changed.
Mr. B loves to travel all over the world, whether it's for work (Japan) or pleasure (Ireland). This travel desk would be perfect for him, as he is also an aspiring writer (he has an agent and editor already).
Lastly, Mr. B loves a good scare as he really doesn't believe in "all that stuff" and views it strictly entertainment. Whatever one's views are on the matter, there are many haunted places in the world one can visit. . . if he dares! If you are looking for a fright, check into Bisbee, Arizona's Copper Queen Hotel. I have been here for a day visit and did not find anything out of the usual. It is actually quite pretty with its Victorian flair.