Tags
1800s, 19th Century, African American, Art, Author, Biography, Books, Christian, Civil War, Dolley Madison, Edwardian, Family History, Fantasy, Law, Lincoln, Literature, Military, Mystery, Navy, Novel, Pre-Reads, Regency, Romance, Sagas, Scottish, Slavery, Society, Steampunk, Victorian, War, Women, Writer
It comes of a Wednesday. The last Wednesday or the month to be exact. Sixteen curated 19th century related, recently published titles are selected from a vast array of resources, some exclusively available to Librarians. The sources include Baker and Taylor, Library Journal, Kirkus Review, Publisher's Weekly, and occasionally, Amazon. Only books with high ratings are included. The summaries and reviews are taken from these sites. I make a point to present a well-rounded collection, as to not have a solid list of historical mystery books. The list is broken down into two parts; fiction and non-fiction and categorized alphabetically by title. For purely, professional snobbery, I once thought about arranging the fiction books by author and non-fiction titles by the Dewey Decimal System or the Library of Congress Classification, but those arrangement are not international. The basic tenant of all library is access; to make things easily available to the masses. So, I just sorted by title. Easy peasy. These titles were released or re-released this month. As such, I have not read any of theses publications, but I want to! So have your pen and paper at the ready. You may want to jot some of these books down, so you may request them at your local library, bookstore or Amazon. Let me know which ones are you going to add in the comment section below.
Fiction
Beauty and the Clockwork Beast by Nancy Campbell Allen
Lucy Pickett, whose research on ways to counter vampires is a priority for the Botanical Aid Society of London, visits Blackwell Manor to find a remedy for her cousin Kate, who's usually "healthy as an ox" but has been taken ill since moving there with her new husband, the brother of the Earl of Blackwell. When the ghost of Marie, the late sister of the secretive earl, tries to communicate with Lucy, the earl takes her under his protection and his scrutiny. She's terrified by the scar across his face and the rumors that he killed both Marie and his young wife, and yet Lucy finds him to be a kind confidant and an appealing suitor.
Breath of Earth by Beth Cato
In an alternate 1906, the United States and Japan have forged a powerful confederation the Unified Pacificin an attempt to dominate the world. Their first target is a vulnerable China. In San Francisco, headstrong secretary Ingrid Carmichael is assisting a group of powerful geomancer wardens who have no idea of the depth of her own talent or that she is the only woman to possess such skills. When assassins kill the wardens, Ingrid and her mentor are protected by her incredible magic. But the pair is far from safe. Without its full force of guardian geomancers, the city is on the brink of a cataclysmic earthquake that will expose the earths power to masterminds determined to control the energy for their own dark ends. The danger escalates when Chinese refugees, preparing to fight the encroaching American and Japanese forces, fracture the uneasy alliance between the Pacific allies, transforming San Francisco into a veritable powder keg. And the slightest tremor will set it off. . . . Forced on the run, Ingrid makes some shocking discoveries about herself. Her already considerable magic has grown even more fearsome . . . and she may be the fulcrum on which the balance of world power rests.
The Gentlemen by Forrest Leo
Historical farce that pits a middling London poet against a very gentlemanly Devil. At the outset, Lionel Savage, a poet of some following but little literary distinction, discovers that he is all but broke. Alas, he has, and he must remedy his situation quickly in order to continue to circulate in the high society to which he has become accustomed. It's his good fortune—or is it?—to find himself matched with a beautiful heiress whose family apparently wants her to marry a poet, and he's apparently as good as any. Yet six months after the nuptials, he has yet to consummate t he marriage, share more than a few words with his bride, or write an acceptable poem since their courtship.  At one of the society parties his wife throws to ease her frustrations, he encounters the gentleman of the title, explains his dilemma, and lends the Devil a book. That very night, his wife disappears. What follows encompasses his adventurously wanton sister, his wife's famous explorer brother, an inventor suspected of treason, a wise bookseller, and the butler, all of whom are attempting to answer two questions: did the narrator make a bargain with the Devil to take his wife? If so, how can he get her back?
Guide Me Home by Kim Vogel Sawyer
Two years after her brother Andy's death from an accident after running away from home, Rebekah Hardin still feels responsible for not being able to help him and heal her large family. To ease the financial burden on her parents—and the burden in her heart—Rebekah sets off to find a job at Kentucky's Mammoth Cave, where she wins over Tolly Sandford, the head guide, and becomes the newest cave tour guide. The aspiring cartographer Devlin Bale also comes to Mammoth Cave with plans to spend his summer mapping the massive cave and surveying the surrounding land for a new National Park—which could give his father a boost in the upcoming Senate race. But when true intentions are revealed and tragedy threatens to strike, Rebekah's growing friendship with Devlin is put into question. Even then, her first concern is for others around her: Tolly's safety in the cave, her family's well-being, and Devlin's spiritual welfare.
1867 San Francisco, when Owen Cassidy, a 14-year-old orphan, unearths a body while digging one night for hidden gold in the basement of the building owned by his employer, Martin and Company, he decides to go tell his benefactor, nurse Celia Davies. After accompanying Owen to the cellar, Celia advises Owen to report his grisly discovery to police detective Nick Greaves. Nick would like nothing more than to pin the murder on a former friend of his, Frank Hutchinson, who's one of the three partners in Martin and Company. The dead man, identified as Virgil Nash, turns out to have lots of enemies, including Hutchinson. Anxious to provide Nick with alternative suspects, Celia does her own sleuthing, which Nick reluctantly comes to accept. Inevitably, Celia courts danger, while Nick courts Celia. Plucky Celia's rebellion against the gender restrictions of her day makes up in part for a routine mystery.
Eighteenth in line for an English dukedom, Scottish distiller Alec Stuart never expected—or wanted—to inherit. So when he succeeds to the Warnick title, for five years he does his best to ignore the whole thing—until an urgent letter sends him down to London to rescue a ward he didn't know he had. Miss Lillian Hargrove is a rare beauty (and the subject of a nude painting) who is about to be ruined by scandal. The solution, according to Alec, is to marry Lily off before the painting is unveiled. Of course, Lily will have none of it, and the battle is waged. A strong heroine who wants to live life on her own terms and an honorable hero who is determined to give her the life—and the man—he thinks she deserves war with their feelings and each other.
T
hese Honored Dead by Jonathan F. Putnam
Joshua Speed, the enterprising second son of a wealthy plantation owner, has struck off on his own. But before long, he makes a surprising and crucial new acquaintance–a freshly minted lawyer by the name of Abraham Lincoln. When an orphaned girl from a neighboring town is found murdered and suspicion falls on her aunt, Speed makes it his mission to clear her good name. Of course, he'll need the legal expertise of his unusual new friend. Together, Lincoln and Speed fight to bring justice to their small town. But as more bodies are discovered and the investigation starts to come apart at the seams, there's one question on everyone's lips: does Lincoln have what it takes to crack his first murder case? Inspired by actual events from the American frontier.
Thaddeus Lewis, a saddlebag preacher and sometimes sleuth in rural Ontario in the 1850s, finds himself in an awkward situation. For the first time since the death of his beloved wife, Betsy, he guiltily feels an attraction to another woman. Ellen Howell, however, is married, and she and her absconded husband are accused of murder. Thaddeus hires a charming young lawyer to defend her because he says he hates "to see anyone subjected to trial without adequate council" but questions his own motives. This all takes place against the backdrop of the construction of a new section of railway that everyone in the area hopes will make them rich. As he investigates, Thaddeus uncovers a fraudulent scheme that could jeopardize the completion of railway and looks like a possible motive for murder.
Non-Fiction
Ambrose Bierce and the Period of Honorable Strife: The Civil War and the emergence of the American writer by Christopher Kiernan Coleman and Scot Danforth
In the spring of 1861, Ambrose Bierce, just shy of nineteen, became Private Bierce of the Ninth Indiana Volunteer Infantry. For the next four years, Bierce marched and fought throughout the western theater of the Civil War. Because of his searing wartime experience, Bierce became a key writer in the history of American literary realism. Scholars have long asserted that there are concrete connections between Bierce's fiction and his service, but surprisingly no biographer has focused solely on Bierce's formative Civil War career and made these connections clear. Christopher K. Coleman uses Ambrose Bierce's few autobiographical writings about the war and a deep analysis of his fiction to help readers see and feel the muddy, bloody world threatening Bierce and his fellow Civil War soldiers. Across the Tennessee River from the battle of Shiloh, Bierce, who could only hear the battle in the darkness writes, "The death-line was an arc of which the river was the chord." Ambrose Bierce and the Period of Honorable Strife is a fascinating account of the movements of the Ninth Indiana Regiment—a unit that saw as much action as any through the war—and readers will come to know the men and leaders, the deaths and glories, of this group from its most insightful observer.
The Burning of the White House: James and Dolley Madison and the War of 1812 by Jane Hampton Cook
Relying on first-hand accounts, historian Jane Hampton Cook weaves together several different narratives to create a vivid, multidimensional account of the burning of Washington, including the escalation that led to it and the immediate aftermath. From James and Dolly Madison to the British admiral who ordered the White House set aflame, historical figures are brought to life through their experience of this unprecedented attack. The Burning of the White House is the story of a city invaded, a presidential family displaced, a nation humbled, and an American spirit that somehow remained unbroken.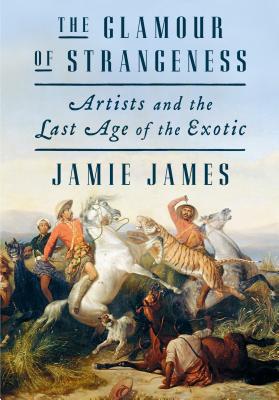 Glamour and Strangeness: Artists and the last age of the exotic by Jamie James
From the early days of steamship travel, artists stifled by the culture of their homelands fled to islands, jungles, and deserts in search of new creative and emotional frontiers. Their flight inspired a unique body of work that doesn't fit squarely within the Western canon, yet may be some of the most original statements we have about the range and depth of the artistic imagination.
Focusing on six principal subjects, Jamie James locates "a lost national school" of artists who left their homes for the unknown. There is Walter Spies, the devastatingly handsome German painter who remade his life in Bali; Raden Saleh, the Javanese painter who found fame in Europe; Isabelle Eberhardt, a Russian-Swiss writer who roamed the Sahara dressed as an Arab man; the American experimental filmmaker Maya Deren, who went to Haiti and became a committed follower of voodoo. From France, Paul Gauguin left for Tahiti; and Victor Segalen, a naval doctor, poet, and novelist, immersed himself in classical Chinese civilization in imperial Peking.
In The Glamour of Strangeness, James evokes these extraordinary lives in portraits that bring the transcultural artist into sharp relief. Drawing on his own career as a travel writer and years of archival research uncovering previously unpublished letters and journals, James creates a penetrating study of the powerful connection between art and the exotic.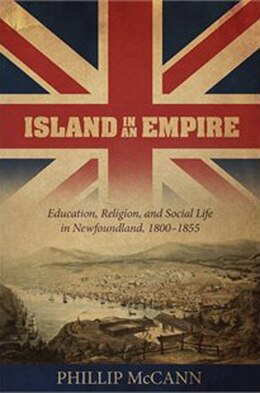 Island in an Empire: Education, religion, and social life in Newfoundland 1800-1855 by Philip McCann
The first half of the nineteenth century brought two major revolution, the British Industrial Revolution and the French political revolution, which devastatingly heralded the modern world. In Newfoundland, an important strategic outpost island within the powerful British Empire, the period brought the start of religious, educational, and class identifications and divisions, particularly in the capital, St. John's.  It also marked the beginning of the growth of a popular culture: citizens of St. John's enjoyed amateur and professional theatre, on par with that in London, as well as horse—racing, the Regatta, circuses, concerts, and exhibitions of art and natural history, opening the eyes of residents to worlds they would never have experienced. Overall, argues historian Phillip McCann, the years 1800 to 1855 can be seen as a crucible in which Newfoundland society and identity was born.
Our Family Dreams: The Fletchers' adventures in nineteenth century America by Daniel Blake Smith
Beginning on Fletcher's small Vermont farm, Smith traces the family's dispersion across the land. Using family letters and diaries, Smith painstakingly frames the rugged patriarch's drive and determination. These traits are also visible in the ambitions of his sons, Elijah and Calvin, who were eager to carve out their own destinies. Smith relays Elijah's conflicting views about slavery upon relocating to Virginia, marrying into a slave-owning family, and coming to defend slavery as "rather a misfortune than a crime" while becoming one of the state's largest slave owners. Calvin, one of the youngest Fletcher children, stands out as a respected lawyer and abolitionist in Indianapolis who later teamed with Elijah to pay their late father's debts. Smith is able to show that Jesse Fletcher's views of hard work, determination, and courage were passed down to his grandchildren. In following the family through two generations, Smith shows the conflicting nature of American democracy in the various paths chosen by the offspring of the Fletcher bloodline.
Peacock and Vine: On William Morris and Mariano Fortuny by A.S. Byatt
The English-born Morris came from a bourgeois background and, like his associates Dante Gabriel Rossetti and Edward Burne-Jones (both of who were members of the group of artists known as the Pre-Raphaelite Brotherhood), looked to the medieval Christian tradition as inspiration for his fabric and textile designs. Fortuny, who was descended from an aristocratic Spanish family and designed fabrics in his Venice studio, had an imagination steeped in Mediterranean culture and informed by his fascination with ancient Cretan civilization in Knossos. Looking beyond the superficialities of both mens' lives and work, Byatt finds kinship in their indebtedness to classic traditions, several shared motifs in their art (notably peacocks and pomegranates), and the balance of beauty and utility that they strove for in their productions.
Ships of Oak, Guns of Iron: The War of 1812 and the forging of the American Navy by Ronald D. Utt
The War of 1812 is typically noted for a handful of events: the burning of the White House, the rise of the Star Spangled Banner, and the battle of New Orleans. But in fact the greatest consequence of that distant conflict was the birth of the U.S. Navy. During the War of 1812, America's tiny fleet took on the mightiest naval power on earth, besting the British in a string of victories that stunned both nations. The book sheds new light on the naval battles of the War of 1812 and how they gave birth to our nation's great navy, as well as tells the story of the War of 1812 through the portraits of famous American war heroes. From the cunning Stephen Decatur to the fierce David Porter, Ships of Oak, Guns of Iron relates how thousands of American men and boys gave better than they got against the British Navy. The great age of fighting sail is as rich in heroic drama as any epoch.
A Voice from the South by Anna J. Cooper and Janet Neary, Phd.
A cornerstone of black feminist and political theory, this collection of essays focuses on racial progress and women's rights. A Voice from the South, written in 1892, is regarded as the first statement of black feminism. Despite their imprint of nineteenth-century social thought, these essays possess an urgent, modern tone, characterized by an emphasis on debate and a scintillating wit. Topics include the importance of women's education as well as African Americans' economic roles and their literary representation.
A noted member of Washington, D. C.'s African American community, Anna Julia Cooper (1858 – 1964) rose to prominence as a leading scholar, educator, and activist at the end of the nineteenth century. Born into slavery, she was the fourth African American woman to earn a doctoral degree, receiving a PhD in history from the University of Paris-Sorbonne in 1924. This edition includes an informative Introduction to Cooper's life and work by Janet Neary.