Tags
1800s, 19th Century, African American, America, Author, Biography, Books, Civil War, Crime, Criminals, England, Etiquette, Fashion, Fiction, Gentlemen, Literature, Military, Mystery, Non-Fiction, Novel, Politics, Pre-Reads, Queen Victoria, Rasputin, Regency, Society, Steampunk, True Crime, United States, Victorian, War, Women
Pre-Reads are here! Can you feel it? Just likes these lassie's here. The excitement is practically palpable! Okay, so maybe some of us are not quite "feeling it," but pre-published 19th century inspired titles are now up for display.
For those new to the blog, every month, as a nod to my Librarian profession, I post a list of newly published or soon-to-be published titles set in the 1800s or there-abouts. Eight fiction, eight non-fiction books that are highly reviewed from Library Journal, Baker and Taylor Firsts, Kirkus Review, Amazon, and Publisher's Weekly. Summaries and reviews are taken directly from these sources. The list is alphabetical. As these are new books, I have yet to read any, but I will note which ones are on my To-Read-List and which if any I ordered for the library I work at. (My demographic prefers fast-paced mysteries and romance, so it is a big deal when I purchase a 19th century title.) Which ones are you most interested in reading? Be sure to leave your answer and/or reviews in the comments. I apologize if some devices, make the layout appear wonky.
Fiction
The Calorium Wars: An extravaganza of the Gilded Age by Dennis O'Flaherty
Liam McCool, the premier safecracker in 1877 New York, isn't the type to hang around fairy circles on the Celtic day of the dead. But an invitation from his Gram leaves the King of the Cracksmen" possessed by the spirit of Finn McCool, the great hunter-warrior of ancient Ireland and a mighty magical force. Just in time, too. Edwin Stanton, once Lincoln's Secretary of War but now a self-proclaimed dictator, has restored slavery in the United States, and conscripted every able-bodied white male to fight in the war he's waging against Little Russia, made up of all the continental North America west of the Mississippi, sold to Russia by Andrew Jackson fifty years earlier. Stanton needs Little Russia's calorium, a mineral used to power America's airships, factories, and humanoid automatons. But Liam and the love of his life, world-famous reporter Becky Fox, mean to stop him. Joined by Crazy Horse, the Sioux war chief and medicine man, and Ambrose Chen, a Taoist sorcerer and alchemist, Liam and company embark on a wild series of adventures from New Petersburg, where revolutionaries are fighting to overthrow the government, to the Bear Flag Republic, a California enclave governed by P. T. Barnum.
To Capture What We Cannot Keep by Beatrice Colin
A French engineer working on the construction of the Eiffel Tower meets a Glaswegian widow, and their romance is as risky as the tower project itself. Émile Nouguier is second-in-command to Gustave Eiffel, designing the tower that will mark the centennial of the French Revolution at the World's Fair of 1889. In 1886, construction of La Tour is just commencing. As her only surviving son, Émile has incurred his aging mother's disapproval for choosing engineering over active management of the family glass factory. During a tour of the construction site by balloon, Émile meets Caitriona Wallace, 31, a widow who has accompanied, as chaperone, two Scottish young adults, Alice and Jamie, the cosseted niece and nephew of a wealthy, childless Glasgow civil engineer. Cait's husband was killed in a bridge collapse, but the match would have been doomed by an incompatibility between the couple which Colin handles so discreetly that readers can only guess at its nature until the ve ry end. Now, Cait's only options are positions such as this one or remarriage, but so far only one rich but repulsive suitor has presented himself. The attraction between Émile and Cait is instant but it takes several chapters of hesitation as each gradually sheds his or her own nationality's version of Victorian reticence. Émile's mother is dying and has been urging him to marry soon and produce grandchildren before it's too late, but he knows she will never accept Cait, a foreigner. Meanwhile, his ex-mistress Gabrielle has embroiled herself with Alice and Jamie, abetting the Scottish innocents' forays into the Parisian demimonde. Cait, oblivious to the full extent of her charges' indiscretions, dreads confessing what she does suspect to her employer, since it will necessitate a return to Glasgow and her own bleak future.
Congress of Secrets by Stephanie Burgis
A rich tale that throws magic into the already-intriguing setting of the Congress of Vienna in 1814 and 1815. Years before, Austria's secret police, led by Count Pergen, arrested a radical printer and imprisoned his daughter, Caroline. She escaped and reinvented herself, posing as a widow in England, and now she wants to rescue her father. His former apprentice, Michael, has grown into a successful con artist and has snuck back into Vienna with plans of his own. In this alternate history, alchemists intermingle with politicians, and both Michael and Caroline's schemes have the potential to unravel even before they encounter each other and realize (after some misunderstandings) that they might work well together.
The Iron Water by Chris Nickson
At the outset of British author Nickson's gritty fourth whodunit set in late 19th-century Leeds (after 2015's Skin like Silver), the trial run of an experimental torpedo in Waterloo Lake cuts the rope tying the corpse of a man to a weight, causing the body, later identified as that of small-time crook Leonard Tench, to rise to the lake's surface. Soon afterward, a severed woman's leg turns up in the River Aire. Is there a link between the two victims? Det. Insp. Tom Harper learns that Tench was connected with a local gang leader, and looks to the criminal underworld for a motive for Tench's killing. Mindful of the city's reputation, Leeds officials put pressure on Harper to solve both puzzles quickly.
The Jekyll Revelation by Robert Masello
The coincidence of the opening of a stage adaptation of Robert Louis Stevenson's Dr. Jekyll and Mr. Hyde with the first Jack the Ripper murder provides an intriguing starting point for Masello's engaging thriller. In 1894 on the island of Samoa, where Stevenson has moved for his health, the writer learns that a native woman has been butchered in the same way as the Ripper's victims. Stevenson fears that the nightmare he thought had ended in Whitechapel has come halfway across the world "to resume its dreadful enterprise." The focus shifts to an environmental scientist in present-day California, then back to Stevenson's creation of his legendary personification of human evil in the late 19th century.
Ruler of the Night by David Morrell
The final volume in Morrell's historical trilogy brings to a close the adventures of Thomas De Quincey, his daughter Emily, and their friends, Scotland Yard detectives Ryan and Becker. Traveling from London, Thomas and Emily have the misfortune to be in the next compartment when a man is stabbed to death, the first murder ever on a British train. Daniel Harcourt, the victim, was a successful London solicitor with some important, influential clients. Just what was in the document case stolen by the murderer? When more violent incidents occur involving the railways, the technological marvel and economic lifeblood of 1855 Britain, Queen Victoria and Prince Albert insist that Thomas and Emily, aided by Ryan and Becker, should investigate. They uncover a web of deceit and murder, culminating in a revelation personally devastating to De Quincey.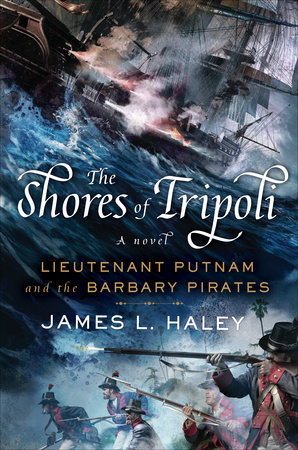 The Shores of Tripoli by James L. Haley
It is 1801 and President Thomas Jefferson has assembled a deep-water navy to fight the growing threat of piracy, as American civilians are regularly kidnapped by Islamist brigands and held for ransom, enslaved, or killed, all at their captors' whim. The Berber States of North Africa, especially Tripoli, claimed their faith gave them the right to pillage anyone who did not submit to their religion. Young Bliven Putnam, great-nephew of Revolutionary War hero Israel Putnam, is bound for the Mediterranean and a desperate battle with the pirate ship Tripoli. He later returns under legendary Commodore Edward Preble on the Constitution, and marches across the Libyan desert with General Eaton to assault Derna—discovering the lessons he learns about war, and life, are not what he expected.
Victoria by Daisy Goodwin
In 1837, less than a month after her eighteenth birthday, Alexandrina Victoria – sheltered, small in stature, and female – became Queen of Great Britain and Ireland. Many thought it was preposterous: Alexandrina — Drina to her family — had always been tightly controlled by her mother and her household, and was surely too unprepossessing to hold the throne. Yet from the moment William IV died, the young Queen startled everyone: abandoning her hated first name in favor of Victoria; insisting, for the first time in her life, on sleeping in a room apart from her mother; resolute about meeting with her ministers alone. One of those ministers, Lord Melbourne, became Victoria's private secretary. Perhaps he might have become more than that, except everyone argued she was destined to marry her cousin, Prince Albert of Saxe-Coburg and Gotha. But Victoria had met Albert as a child and found him stiff and critical: surely the last man she would want for a husband…. **Purchased for my Library AND on my TRL**
Non-Fiction
The Ambition of Jane Franklin: Victorian lady adventurer by Alison Alexander
In a period when most ladies sat at home with their embroidery, Jane Franklin achieved fame throughout the western world, and was probably the best-traveled woman of her day. Alison Alexander traces the life of this inimitable woman, from her birth in late 18th-century London, her marriage to Sir John Franklin, the famous Arctic explorer, and her many trips to far-flung locations. Arriving in Tasmania, Australia, in 1837, when Sir John became governor, she swept like a whirlwind through the colony: attempting to rid the island of snakes; establishing a scientific society; adopting an Aboriginal girl; and sending a kangaroo to Queen Victoria. When her husband disappeared in the Arctic on an expedition to discover the Northwest Passage, she single-handedly turned him from a failure into one of England's noblest heroes. She continued traveling well into her 70s, and died at age 84, refusing to take her medicine to the last.
The Epicurean: The classic 1893 cookbook by Charles Ranhofer
This great classic on the art of cooking and serving fine food was assembled by a former master chef at the legendary Delmonico's of New York. A splendid facsimile of the rare 1893 edition, it constitutes a complete culinary encyclopedia, with more than 3,500 recipes ― including 92 ways to prepare eggs, 172 vegetable dishes, whole sections on garnishes, cold and hot side dishes, wines, desserts, and all manner of meat, fish, and poultry dishes. Nearly 800 black-and-white illustrations depict foods, methods of preparation, and table settings. A detailed index provides easy reference.
A Nation without Boarders: The United States and its world in an age of Civil Wars 1830-1910
by Steven Hahn
Esteemed historian Hahn (history, New York Univ.; winner of the Bancroft and Pulitzer Prizes for A Nation Under Our Feet) provocatively asserts that from its founding, the U.S. government has been determined to construct an empire. Using that framework, the author presents the Civil War as one of the major examples of the central government's imperial ambitions. The conquest of the South was soon followed by the subjugation of the Trans-Mississippi West. The expansion of its borders to the Pacific Ocean did not satisfy U.S. imperialistic desires, thus it turned to distant locales throughout the Pacific such as the Philippines. The emphasis on the Pacific is significant as many historians have been recently contextualizing U.S. development within the "Atlantic World." While Hahn includes key events from that sphere, he also demonstrates that myopically focusing on a limited geographic region results in key parts of the story being missed. The point is emphasized by providing background to the rise, and ultimate check, of U.S. global hegemony through the exploration of similar revolutions in other countries during the same period, most notably in Mexico.
Rasputin: Faith, power, and the twilight of the Romanovs
by Douglas Smith
Coinciding with the centenary of Grigory Rasputin's (1869–1916) murder, Smith (Former People: The Final Days of the Russian Aristocracy) stuns with a scrupulously exhaustive biography of the monk's role in the Russian empire's downfall and the rise of Bolshevism. An omnipresent figure in pop culture, Rasputin's true story is cloaked in conjecture. Smith seeks to "track Rasputin through time, to drag him…down into the quotidian banalities of daily life." To this end, his dedication to extricating Rasputin's experience from newly available Soviet Union primary sources and international archives surpasses all previous academic works in breadth and scope, including Joseph Fuhrmann's highly regarded Rasputin: The Untold Story. Smith presents a comprehensive analysis of Rasputin and his significant influence on the Romanovs, illuminating his prescient prophecy, "When I die, Russia will perish." In criticism, the minutiae of constantly changing political appointments on top of a cast of dozens if not hundreds are overwhelming.
Steampunk Style 2
by Steampunk Oriental Laboratory
The Complete Illustrated Guide for Contraptors, Gizmologists and Primocogglers Everywhere!
This book is an indispensable guide for those looking for inspiration and projects to create clothing in true Steampunk style, from robot arms to jewelry and goggles!
Steampunk Oriental Laboratory are Japan-based contraptors of all things steampunk, drawing on a diverse pool of leading DIY and 'maker' talent.
Part of a series.
The Thieves of Threadneedle Street: The incredible true story of the American Foragers who nearly broke the Bank of England
by Nicolas Booth
Booth  does justice to the incredible true story of a group of audacious swindlers who took advantage of gaping holes in 19th-century British banking but were tripped up by a silly mistake. With a novelist's flair, Booth opens with that criminal error: in March 1873, the discovery of an omission of a date on an already-paid bill of exchange led Frank May, the deputy chief cashier of the Bank of England, to realize that it was counterfeit. May quickly reviewed other bills of exchange and realized that the crooks might have already converted £1 million worth. He embarked on a desperate race to prevent any more forged bills being honored, and to identify the thieves. With such high stakes established, Booth then flashes back to 1864, introducing Austin Bidwell, a colorful character who was one of the brains behind the scam. Booth also takes a parallel look at the evolution of international finance, noting that the creation of bills of exchange had been viewed as a great innovation. This account, the first to make use of the Bank of England's archives, is likely to be the definitive narrative of this spectacular (if now obscure) crime.
Thunder at the Gates: The Black Civil War regiments that redeemed America
by Douglas R. Eagerton
Egerton  presents a captivating narrative of 14 men who served with the 54th and 55th Massachusetts infantry and the 5th Massachusetts cavalry. Four white officers commanded the regiments, all wealthy and well-educated men, including Robert Gould Shaw and Charles Francis Adams Jr. At the center of this volume's biographical portrait are African Americans from a variety of backgrounds who sought to end slavery: escaped slave William Carney, former schoolteachers Nicolas Said and James Trotter, and seamen Henry Jarvis and James Gooding. Egerton details the regiments' training and their participation in battles at Fort Wagner, SC, and their participation in the occupation of Charleston, SC, at the conclusion of the Civil War. The men proved their worth as disciplined soldiers and helped focus the nation's attention on freedom and equal rights for African Americans.
The Victorian Treasury: A collection of fascinating facts and insights about the Victorian Era
by Lucinda Hawksley
The Victorian age witnessed enormous changes around Britain and vast swathes of the globe. With intriguing facts and stories, The Victorian Treasury looks at both the minutiae of everyday life and the major world-altering events during Queen Victoria's long reign. It explores urban legends, the notorious crimes of Jack the Ripper and Constance Kent, the building of the London Underground, how a maid spent her leisure time, how it felt travelling on a steam train for the first time, and much more.Written by Charles Dickens's great-great-great granddaughter.