Tags
1800s, 19th Century, Academics, African American, Art, Art Nouveau, Author, Biography, Books, Christian, College, Edwardian, Fashion, Literature, Mystery, Novel, Painting, Politics, Portrait, Pre-Reads, Regency, Romance, Society, True Crime, University, Victorian, Writer
The Pre-Reads are here! I say this every month, but I swear Time is speeding up. I felt it was the last Wednesday of May just a few days ago . . . No bother, I am excited about the future. I'm almost more excited about the 19th century inspired books coming out this month! For those new to 19th Century Modern, every last Wednesday, I dip into my Librarian sources to bring you eight fiction and eight non-fiction titles that are highly reviewed and highly rated that recently debuted. Since these books are hot off the press, I have not read any of them, so I am unable to make a personal suggestion. However, I can tell you this, my library patron demographic is not into Historical Fiction. Mystery and romance trump the circulation rates at my library. Ironic, since those are my least favorite genres! Thus said, this June I am ordering The Daredevil Snared for my library. Such a rarity!! All summaries and review come directly from Publisher's Weekly, Library Journal, Baker and Taylor, Kirkus Review, and Amazon. In the case of non-fiction, some titles are reprints, but still worth placing a purchase request at your local library or bookstore. Books are organized by title (Librarians are very BIG on alphanumeric organization . . .)
Fiction
Amy Snow by Tracy Rees
Set in Victorian England, this engrossing first novel chronicles the secretive treasure hunt that the titular heroine undertakes following her friend's death. After finding an infant Amy abandoned in the snow, Aurelia Vennaway brings the baby into her family's sprawling mansion. Amy is raised in the kitchen and treated like a servant, though Aurelia loves her like a sister. Aurelia begs her parents to let her go on a short chaperoned trip before her heart fails her. After her death, Aurelia leaves Amy instructions to begin a complicated quest.
The Daredevil Snared by Stephanie Laurens
A romantic rumble in the jungle. Capt. Caleb Frobisher is a man on a mission—a mission his older brothers started in the first two books of Laurens' Adventurers Quartet. He's been sent to follow a rumor that British citizens are being enslaved in a covert diamond mine in West Africa, which leads him to the mine where Katherine Fortescue is being held. Katherine, one of the de facto leaders of the captured group, is delighted to learn that a rescue attempt is underway. But when Dubois, the sociopath mine leader, discovers Caleb and his crew in hiding, they are also forced to work, and now all wait anxiously to see if rescue will arrive from England. After an instant attraction between Caleb and Katherine, their romance develops slowly, but once they finally kiss, their love becomes as unbreakable as the diamonds they mine.
Death on the Sapphire by R.J. Koreto
Set in 1906 London, introduces Lady Frances Ffolkes, a member of the League for Women's Political Equality, and her lady's maid, June Mallow. Frances's friend Lady Katherine "Kat" Colcombe is in mourning because her brother, Maj. Daniel Colcombe, has died in what was officially deemed an accident but some called suicide. The memoir Danny was working on, detailing his time in the Boer War, has disappeared from his study, or at least Kat can't find it. Frances offers to make a thorough search of the study, with June's assistance, for the missing manuscript. Frances's search soon leads her to various well-connected individuals, including an M.P., who fear what Danny may have revealed about them in his memoir. Though she's a modern, headstrong woman, Frances comes across as all too human in her doubts about her ability to pursue such an independent inquiry.
From this Moment by Elizabeth Camden
Set against the backdrop of the building of the first American subway in 1897 Boston, Romulus White is the well-dressed editor and publisher of Scientific World magazine. Ten years after a broken engagement, he enjoys women's company "far too much to settle down with just one." Stella West is a Cornell-educated artist working in London; White has been trying for three years to woo her to work as an illustrator for his magazine. When he learns that she is now living in Boston and working at City Hall as a stenographer, Romulus is thrilled. He can't pry her away from her new job, though. Stella soon realizes that Romulus is one of her only allies in the city and starts to lean on him for help and friendship, but when misfortune befalls both of them, he is eager to sever ties.
The Gilded Years by Kairn Tanabe
A bright, beautiful senior in the class of 1897 Vassar College, Anita Hemmings is hiding a secret that should have banned her from admission: Anita is the only African-American student ever to attend. With her olive complexion and dark hair, the daughter of a janitor and descendant of slaves has successfully passed as white. Though Anita has kept herself at a distance from her classmates, her roommate Lottie's sphere of influence is inescapable and the two become fast friends. Pulled into her elite world, Anita learns what it's like to be treated as a wealthy, educated white woman. It's only when Lottie becomes infatuated with Anita's brother, Frederick, that the situation becomes particularly perilous. And as graduation looms, those closest to her will be the ones to dangerously threaten her secret.
A Haven on Orchard Lane by Lawana Blackwell
Charlotte Ward, a once-famous actress of the Victorian era, is given an opportunity to return to the London stage and escape a sequestered life with her manipulative husband, Lord Fosberry. But instead of giving a triumphant performance, Charlotte ends up in the hospital after succumbing to a fit of nerves. Rosalind Kent, Charlotte's estranged daughter, offers to take care of her mother after a friend persuades her to let bygones be bygones. Charlotte agrees and they rent a cottage in Port Stilwell, hoping to avoid intrusive tabloid reporters and the clutches of Lord Fosberry.
Magruder's Curiosity Cabinet by H.P. Wood
A hypnotic debut in turn-of-the-century Coney Island, where an abandoned girl collides with a disgruntled ménage of circus freaks. Kitty Hayward and her mother are ready to experience the spectacles of Coney Island's newest attraction, the Dreamland amusement park. But when Kitty's mother vanishes from their hotel, she finds herself penniless, alone, and far from her native England. The last people she expects to help are the cast of characters at Magruder's Curiosity Cabinet, a museum of oddities. From con men to strongmen, from flea wranglers to lion tamers, Kitty's new friends quickly adopt her and vow to help find the missing Mrs. Hayward. But even these unusual inhabitants may not be a match for the insidious sickness that begins to spread through Coney Island…or the panic that turns Dreamland into a nightmare.
Mrs. Lee and Mrs. Gray by Dorothy Love
A biographical novel, which traces the relationship between the wife of Robert E. Lee and Selina Norris Grey, a woman enslaved by the Lee family. Mary Custis Lee, a great-granddaughter of Martha Washington, grew up at Arlington, a plantation that also was home to 60 enslaved adults and children. Mary and her mother were both members of the Colonization Society, working to buy freedom for the enslaved and send them to Liberia. They also took the radical step of educating the people they owned, teaching them to read and write. One of Mary's most eager pupils was the young Selina Norris. While Mary weds Robert E. Lee and begins her life as military wife, Selina becomes a housekeeper at the house in Arlington and marries an enslaved man. The two women maintain their unlikely friendship through letters and sporadic visits. During the Civil War, Mary entrusts the care of Arlington to Selina.
Non-Fiction
Art Nouveau: Utopia: Reconciling the Irreconcilable by Klaus-Jurgen Sembach
Art Nouveau, whose emergence at the same time as cinema was no mere coincidence, represents the most remarkable attempt to reconcile the demands of the technical age with the undying wish for beauty and glorification—or to pit them against the other.
Here the reform movement of the turn of the century is not only dealt with as an artistic event, but those economic and political interests which inspired, supported, and handicapped it are also taken into account. The outstanding artists are examined in detail in connection with the respective cities of their greatest activity. The result is a complex picture of the symbiosis of architecture, furniture design, and craftsmanship with their corresponding approaches to artistic revitalization.
Blockbuster: Fergus Hume and the mystery of the hansom cab by Lucy Sussex
"Fergus whom?" one might well ask before meeting this prolific author in Sussex's capacious account, set at the birth of a genre that still entertains and engages readers today: the crime novel. Hume produced more than 130 books between 1886 and 1906, the first of which, The Mystery of a Hansom Cab, was the 19th century's bestselling thriller. However, having sold the international rights for £50, he derived little financial benefit from the book's success. Sussex provides a rich picture of Victorian life and a revealing account of late 19th-century publishing practices. She also captures a snapshot of the mystery genre as it existed before Hume's contemporary competitor, Arthur Conan Doyle, completely eclipsed him and inspired legions of imitators. Who now cares about Fergus Hume? Sussex's fascinating book reveals why all crime fiction readers should.
The Bowery Boys: Adventures in Old New York: An unconventional exploration of Manhattan's historic neighborhoods, secret spots, and colorful characters by Greg Young and Tom Meyers
The Bowery Boys' official companion to their wildly popular, award-winning podcast. The Bowery Boys podcast is a phenomenon, thrilling audiences each month with one amazing story after the next. Now, in their first-ever book, the duo gives you an exclusive personal tour through New York's old cobblestone streets and gas-lit back alleyways. Featuring fascinating guides to Hell's Kitchen and Columbus Circle, the Bowery and Astor Place, Tribeca and Foley Square, Chinatown and Little Italy, and all the rest of New York!
Isaac I. Stevens: Young man in a hurry by Kent D. Richards
Reissued with a new preface, this definitive biography of Washington Territorys controversial first governor continues to be an essential work about early history in Washington, northern Idaho and western Montana.
John Marshall: The Chief Justice who saved the nation by Harlow Giles Unger
In the "Federalist Papers," Alexander Hamilton called the courts "the least dangerous" branch of the proposed central government. John Marshall (1755–1835), chief justice of the Supreme Court from 1801 until his death, made the judiciary a coequal branch of government that could stand up to Congress and the president. Marshall was a strong leader on the court, pressing for unanimous decisions and few dissenting or concurring opinions and presiding over the landmark Marbury v. Madison decision. The chief justice asserted the right of the courts to declare laws unconstitutional—something British courts could not do—and repeatedly upheld broad powers for the federal government.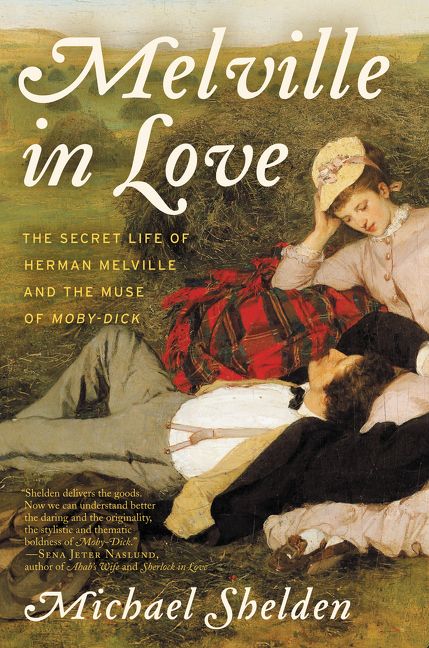 Melville in Love: The secret life of Herman Melville and the muse of Moby Dick by Michael Sheldon
Using newly discovered archival materials, Shelden relates the adulterous love affair between Melville and Sarah Morewood. He suggests both Moby-Dick and Pierre were heavily influenced by the 19th-century novelist's relationship with Morewood. The courtship was suspected by most and acknowledged by none.  Morewood's early death from consumption sent Melville into a spiral of grief and depression that came close to ruining his family. Shelden carefully and convincingly presents his evidence regarding Morewood's influence and how she inspired Melville to a greatness recognized by few of his peers. The boldness of the lovers is shocking as are the repercussions.
Paul-Cesar Helleu by Frederique De Watrigant
A virtuoso of drawing and a master of drypoint, Paul-César Helleu was also an exceptional painter whose work was very much part of the Impressionist movement. Although today he is little known to the public at large, during his lifetime he was quite famous on both sides of the Atlantic. And yet his name appears virtually nowhere in the history of Impressionist painting. Thanks to firsthand accounts left by his daughter and research that has been carried out over the past fifteen years, we have been able to follow in the footsteps of this unique painter and bring together the important pieces of his body of work.
Steampunk Fashion: The ultimate sourcebook to the modern Victorian style by Evelyn Kriete and Ruth La Ferla
Steampunk fashion springs from the inspiration of the past, but blossoms today in trendy stores and cutting-edge haute couture. While many of Steampunk's most dramatic incarnations can be found on Fashion Week runways, it can also be found in ample supply among casual everyday street wear. Steampunk Fashion is the design sourcebook for the Steampunk fashion aesthetic. Inside you'll meet the trendsetters who are influencing what we love to wear: the designers, artists, writers and photographers behind the new flowering of neo-vintage style. The author takes you on a wide-ranging journey through the culture behind the trend. Learn the "rules" of Steampunk style. Understand how diverse outfits can be grouped together into basic thematic categories. Discover the personal style that fits you best, and add a bit of Steampunk fashion to your wardrobe!