Tags
1800s, 18th Century, 19th Century, Art, Arthur Rockham, Beauty, Fashion, Jewelry, Literature, Necklace, Novel, Outlander, Perfume, Scent, Shoes, Shopping, Society, Victorian
Next Wednesday, my friend Miss L turns "two and twenty years of age." Oh, to be young again . . .  Well, not really. You couldn't pay me enough to live that part of my life over again. But, I digress. I plied Miss L to give me a short list of eight items she would like for her birthday. She gave it considerable thought before issuing her requests. Since this is 19th Century Modern's monthly shopping post, I'm skewing her list with a Victorian bent. Miss L has eclectic taste . . . Most pictures are linked to their purchase page, unless otherwise noted.
Shoes, were first the first thing she mentioned. A very specific shoe that did not become popular until the late Edwardian era/Roaring 20s period. In lieu of the modern lines, here is a beautiful pair of 19th century ballroom slippers that the Victorian-Era Miss L might have worn. Incidentally, they match the portrait at the beginning of this post!
Miss L surprised me with listing an Evil Eye Necklace. While the symbol has been around forever (Truly!) 19th century interpretations are not often seen in antique stores. The one below is certainly not from the 1800s but it does give off a more "locket-esque" vibe the Victorians loved. This gold version of the necklace is no longer for sale but there is a silver one that can be found a various places.
Scents be damned. Pretty objects d' art is in! So she tells me. Miss L would love a collection of beautiful glass vials on her dresser (actual perfume not required). Below is a lovely French pair of perfume bottles from the 19th Century up for auction.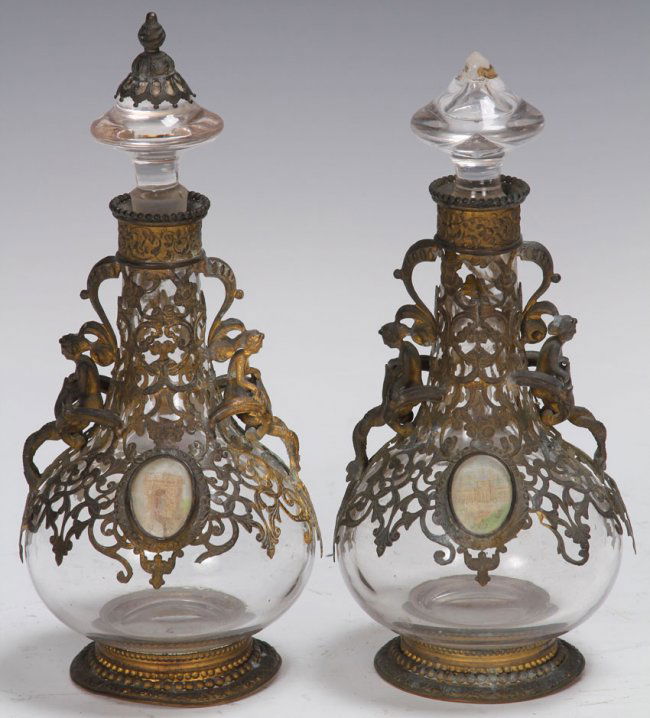 Miss L is not your typical lady in her twenties who frequents Keggers, but when the mood strikes she will have a glass . . .  or four, of wine. She requested some modern wine glasses for her birthday. The Venetian Glasses are not for sale and were displayed in the National Gallery of Victoria.
Modern fairy lights are exactly that; Modern. However, fairy lore has also been around for centuries. Arthur Rackham was a 19th century children's book illustrator known beautiful watercolor fairies. Below is such a print, more can be found at various art websites such as my favorite, allposters.com
The lady wants candles! In the Victorian era candles were a major means of light and not scent. It was also "old school" as electric light became all the rage for those with pocket books to match. Miss L, specified peach candles. Lovely. No can do at this time. I'm sure the coiled beeswax candle is not what she had in mind, but it is wonderful replica for sale.
Miss L has a taste for romance and erotica. Contrary to popular belief, Victorians were also quite lurid (usually behind closed doors, but not always). A very popular and graphic book at the time is Venus in Furs by Ritter von Leopold Sacher-Masoch (where the word Masochist originates). It was published in the 1870s and since has been turned into a couple of movies.
I am going to give her this one in its true form. It is not a 19th century design, but it IS historically modern, which is the very essence of this blog. So below I present to you "Claire Fraser's Jaw-Dropping Red Dress from Outlander Series on Starz." Not for sale. Obviously.