Tags
1800s, 19th Century, Anton Chekhov, Automotive, Biography, Car, Career, Cult, Edwardian, Henry Ford, Jane Austen, Job, Literature, Music, Novel, Occupation, Politics, Pre-Reads, Regency, Sagas, Society, Steampunk, Strauss, Utopia, Victorian, Western, Women, Work
End up on the page. It is time for Pre-Reads. Every last Wednesday of the month I showcase eight recently published fiction and non-fiction pertaining to the 19th century. All books are gleaned from either Library Journal, Baker and Taylor, Kirkus Review, Publisher's Weekly, and Amazon. The summaries and reviews are quoted directly from these sources. I make it a point to display a well rounded collection for you, Dear Reader, because I know not all 19th century aficionados are into historical romances. Although this month's list runs the gamut from Regency to Edwardian with some Steampunk, for good measure. If you see a book that catches your eye be sure to politely pester request the title at your local library or failing that, your favorite book store. Make a list of them all if need be. Are your pencils at the ready?
FICTION
Edenland by Wallace King
Both on the run, Bledsoe, a slave, and Alice, an Irish indentured servant, are fleeing from North Carolina to Virginia, swamp to city, in this adventure tale cum love story set in the 1860s. While similarly free spirits, the pair are otherwise a bit of an odd couple; he book learned and she illiterate but versed in the skills of survival in a way he is not. They find temporary shelter in a hidden place called Edenland, where they fall in love. But armies are on the march, and soon the couple are separated, seemingly forever. Then fate, and their intricate histories, reunites them. In between, Bledsoe is enlisted as accomplice—and mask—for a Yankee spy and Alice becomes the play toy of a pampered Southern belle.
Eliza Waite by Ashley E. Sweeney
After the tragic death of her husband and son on a remote island in Washington's San Juan Islands, Eliza Waite joins the throng of miners, fortune hunters, business owners, con men, and prostitutes traveling north to the Klondike in the spring of 1898. When Eliza arrives in Skagway, Alaska, she has less than fifty dollars to her name and not a friend in the world―but with some savvy, and with the help of some unsavory characters, Eliza opens a successful bakery on Skagway's main street and befriends a madam at a neighboring bordello. Occupying this space―a place somewhere between traditional and nontraditional feminine roles―Eliza awakens emotionally and sexually. But when an unprincipled man from her past turns up in Skagway, Eliza is fearful that she will be unable to conceal her identity and move forward with her new life.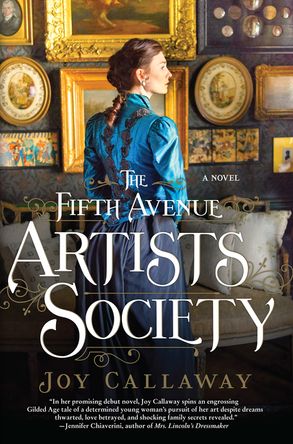 The Fifth Avenue Artist Society by Joy Callaway
1890s Bronx, NY-set tale of aspiring author Virginia Loftin, who is in love with her childhood best friend Charlie. When Charlie, whose family lives in genteel poverty much like the Loftins, proposes to a wealthy woman, Ginny thinks her world has ended. Ginny's twin brother, Franklin, drags her out of her misery and into the embrace of the artists' society launched by his friend, Fifth Avenue writer John Hopper. There, Ginny finds inspiration and eventually a new love in John. But dark secrets are concealed beneath the glitz of John's high society, as Ginny discovers when everything comes falling down. Callaway paints an all too real portrait of the power of love to both create and destroy, as well as the effect love and grief have on the creative process. As much as Ginny's pain will resonate with the reader, it is a bittersweet pleasure to watch her evolve through the worst time of her life. Readers will never see the twists around every corner.
A Front Page Affair by Radha Vastsal
New York City, 1915. The Lusitania has just been sunk, and headlines about a shooting at J.P. Morgan's mansion and the Great War are splashed across the front page of every newspaper. Capability "Kitty" Weeks would love nothing more than to report on the news of the day, but she's stuck writing about fashion and society gossip over on the Ladies' Page—until a man is murdered at a high society picnic on her beat. Determined to prove her worth as a journalist, Kitty finds herself plunged into the midst of a wartime conspiracy that threatens to derail the United States' attempt to remain neutral—and to disrupt the privileged life she has always known.
The Highwayman by Craig Johnson
For three months, Rosey Wayman, a Highway Patrol officer, has been on duty in the canyon, and on some nights, she receives a distress call on her radio: "officer needing assistance." Rosey, who's due for a psychiatric evaluation, thinks the call is from Bobby Womack—a patrolman who perished nearly 50 years earlier while trying to stop a runaway fuel tanker in a canyon tunnel. Longmire, the sheriff of Absaroka County, and his sidekick, Henry Standing Bear, assume there has to be a natural explanation, but in their search for the truth they learn some surprising things about Bobby and the long-ago theft of a cache of Morgan silver dollars. You don't have to be a fan of Longmire, the hit Netflix series, to appreciate this clever tale.
Love and Friendship: In which Jane Austen's Lady Susan Vernon is entirely vindicated by Whit Stillman
Lady Susan, a recent widow, spends a few months with friends until gossip of a romantic scandal sends her fleeing to her brother and sister-in-law. Marriage plots abound for both Lady Susan and her young daughter, Frederica, as she seeks to establish secure matches that guarantee they will both be well cared for, but it is the means by which Lady Susan procures these proposals that call her character into question. Her sister-in-law, Catherine Vernon (née DeCourcy), and the DeCourcy family are convinced by the gossip surrounding Lady Susan and fear that she means to use her wit and beauty to marry into their family via Catherine's brother, Reginald DeCourcy. for a spring release of a film based on the expanded story starring Chloe Sevigny, Kate Beckinsale, and Stephen Fry.
Smoke by Dan Vyleta
Best friends at an elite boarding school, Charlie Cooper and Thomas Argyle accept the way their world works: dark thoughts and deeds immediately cause black "Smoke" to emanate from human bodies, and the upper classes rule by virtue of being visibly more pure than the lower. Then the friends spend Christmas at the baronial home of Thomas's uncle Baron Naylor, and everything changes. They are both attracted to his daughter, Livia, and her half-brother, Julius Spencer, Thomas's cousin and a prefect at their school, hides a violent soul behind an irreproachable persona. Meanwhile, Lady Naylor is conducting secret research that throws everything they believe—from the texts of the Bible to the very nature of Smoke—into doubt. After investigating her laboratory and being attacked by an unknown assailant, Livia and the boys make for London, where they risk their lives for the chance to change their nation and themselves.
The Summer Guest by Alison Anderson
The cast and settings: 1) Katya and Peter, a married couple struggling to keep their London publishing firm afloat. They're about to translate and publish the manuscript of a recently discovered diary kept by a young Russian woman when Anton Chekhov (the "summer guest") visited her family's estate more than 100 years ago. 2) Ana, a divorcee hired by the publishing firm to translate the diary. Ana has high hopes of making a name for herself, and getting a new life, with her translation. 3) Zinaida Lintvaryova, a young doctor blinded by illness who is keeping the aforesaid diary, in which she records her observations of the large Chekhov family during a summer on the Lintvaryova estate in what was then the Ukraine.
NON-FICTION
Betsy and the Emperor: The true story Napoleon, a pretty girl, a Regency rake and a colonial misadventure by Anne Whitehead
After Napoleon was defeated at the Battle of Waterloo in 1815, he was sent into exile on Saint Helena—reduced from the most powerful figure in Europe to a prisoner on a rock in the South Atlantic. But the fallen emperor was charmed by the pretty teenage daughter of a local merchant, Betsy Balcombe. Anne Whitehead brings to life Napoleon's last years on Saint Helena, revealing the central role of the Balcombe family. She also lays to rest two centuries of speculation about Betsy's relationship with Napoleon. With her extraordinary connections to royalty and high society, Betsy Balcombe led a life worthy of a Regency romance, but she was always fighting for her independence.
Breaking Rockefeller: The incredible story of the ambitious who toppled an oil empire by Peter B. Doran
Marcus Samuel, Jr., is an unorthodox Jewish merchant trader. Henri Deterding is a take-no-prisoners oilman. In 1889, John D. Rockefeller is at the peak of his power. Having annihilated all competition and possessing near-total domination of the market, even the U.S. government is wary of challenging the great "anaconda" of Standard Oil. The Standard never loses—that is until Samuel and Deterding team up to form Royal Dutch Shell. A riveting account of ambition, oil, and greed, Breaking Rockefeller traces Samuel's rise from outsider to the heights of the British aristocracy, Deterding's conquest of America, and the collapse of Rockefeller's monopoly. The beginning of the twentieth century is a time when vast fortunes were made and lost.
Drive!: Henry Ford, George Selden, and the race to invent the auto age by Lawrence Goldstone
In 1895 attorney George B. Selden received a patent for a "road-carriage" he designed but didn't construct. The Selden patent covered all rudimentary gasoline-powered vehicles built since 1879 and manufactured, sold, or used in the United States during a 17-year span. His collaborators, the Association of Licensed Automobile Manufacturers, awarded licenses and collected royalties on automobiles made by other manufacturers until 1903, when the patent was challenged by a coalition of automakers headed by Henry Ford. Historian Goldstone (Birdmen) argues that Selden was a visionary, one of the first Americans to apply a nascent technology—the internal combustion engine—to a vehicle, and that had Selden acquired the necessary funding and political connections, he almost certainly would have become a preeminent auto magnate. Goldstone outlines Ford's eventual legal victory over Selden in 1911; this revisionist work insists that Ford's genius was not inventor but rather as a corporate manager, publicist, and an adapter to the demands of the marketplace. He concludes, "men such as Henry Ford will always be patrolling the fringes eager to convert ideas to cash. And it is that alchemy…that defines the process we call innovation."
The Last Waltz: The Strauss dynasty and Vienna by John Suchet
Captured in a beautiful package, including more than fifty color photographs, is the intriguing story of of the Viennese Strauss family known for producing some of the best known, best loved music of the nineteenth century. Johann and Josef Strauss, the Waltz Kings, composed hundreds of instantly recognizable and enduring melodies, including The Blue Danube Waltz, Tales from the Vienna Woods, Voices of Spring and The Radetzky March. Their iconic music has been featured on the scores of nearly a thousand films. Yet despite their success, this was a family riven with tension, feuds and jealousy, living in a country that was undergoing seismic upheaval. Through the personal and political chaos, the Strauss family continued to compose music to which the Viennese – anxious to forget their troubles – could dance and drank champagne, even as their country hurtled towards oblivion at the hands of the First World War.
New York Exposed: The Gilded Age police scandal that launched the Progressive Era by Daniel Czitrom
In an incendiary 1892 sermon given at the Madison Square Presbyterian Church, the Rev. Charles Parkhurst declared New York's municipal life to be deplorable and corrupt, controlled by "polluted harpies feeding day and night on its quivering vitals." While city officials denounced him as a "blatherskite" and a "cowardly defamer," Parkhurst set about gathering a slew of evidence to present in a later series of sermons that captivated city residents and the press alike. Parkhurst believed that only a Christian revival, combined with a new, non-partisan approach to governing, could save New York. Disguised as an out of towner, he toured New York's underworld, gathering evidence which he presented in sermons. Two years later, his crusade led the state senate to found the Lexow Committee, whose comprehensive investigation (including testimonies from nearly 700 witnesses) revealed the dark underside of New York's vice economy and the police force's complicity in it, effectively launching the Progressive movement.
Oneida: From free love Utopia to a well-set table by Ellen Wayland-Smith
In the early 19th century, an odd, socially awkward, and unlikely leader named John Humphrey Noyes (1811–86), similar to other self-proclaimed ministers of the Second Great Awakening, claimed to have exclusive knowledge about Jesus's millennial kingdom. Noyes believed in the perfectibility of human nature and built an intricate revolutionary community of free love and equality. The Oneidans grew to fairly modest but self-sustaining numbers and eventually built businesses to support their way of life. One of these enterprises included flatware. After the Oneidans disbanded in 1880, they converted to a joint-stock company and Oneida Community Limited (now known as Oneida Limited) would become one of the most well-respected brands of silverware for middle-class American families.
The Romanovs: 1613-1918 by Simon Sebag Montefiore
From the Romanov dynasty's inauspicious beginnings in a remote monastery to its violent end in a provincial basement, the family held the Russian crown for just over three centuries, dramatically expanding Russia's borders and laying the groundwork for what would become the U.S.S.R. and the modern Russian Federation. Montefiore addresses questions of great import as well as more prosaic but equally illuminating details of life in the Romanov regime, examining, for instance, how Catherine the Great went from being "a regicidal, uxoricidal German usurper" to becoming one of Russia's most successful rulers and "the darling of the philosophes." Echoes of history resonate through the pages and shed light on the ruthless and autocratic tendencies that have remained salient elements of Russian politics.
Twelve Days of Terror: Inside the shocking 1916 New Jersey shark attacks by Richard G. Fernicola, M.d.
Upon the 100th anniversary of the most terrifying stretch of shark attacks in American history–a wave said to have been the inspiration for Jaws–comes a reissue of the classic Lyons Press account and investigation. In July 1916, a time when World War I loomed over America and New York City was in the midst of a deadly polio epidemic, the tri-state area sought relief at the Jersey shore. The Atlantic's refreshing waters proved to be utterly inhospitable, however. In just twelve days, four swimmers were violently and fatally mauled in separate shark attacks, and a fifth swimmer escaped an attack within inches of his life.