Tags
1800s, 19th Century, America, Anthology, Architecture, Art, Author, Biography, Bronte, Christian, Civil War, Criminal, Ireland, Irish, Laura Ingalls Wilder, Literature, Murder, Mystery, Novel, Police Procedural, Pre-Reads, Regency, Romance, Serial Killers, Thriller, True Crime, United States, Victorian
Given my neglect over this month due to out of state company and more of life's craziness, this last week seems to be a packed. Playing catch up! Yeesh, just when I think things have died down, they haven't. It does not help that I have a stack of 30 books in the corner of my room to be read. No joke! The perils of being an avid reader. *sigh* Which brings me to this post! The Famous End of the Month Pre-Reads post! Below listed are some sixteen titles, eight fiction, eight non-fiction of the 19th century variety. All books are highly reviewed and have come out this month! In the case of non-fiction, some are being re-released. Utilizing Baker and Taylor, Publisher's Weekly, Library Journal, Kirkus Review, and Amazon, I've amassed March's coveted list. There were so many books coming out this month, it was unreal. Truly, I had to narrow down the top eight fiction from a pool of four times that amount of fabulous books, disregarding the bigger heap of general 1800s-inspired fiction that is coming out in time for Spring. I made a point to offer you readers a well-rounded collection from which to choose from. So they are not all Christian Romance (not that there is anything wrong with the Christian Romance sub-genre!) The biggest surprise of the season? The Bronte sisters are having their moment! I have included three on the list, but in fact there were many more. So move over Jane Austen! In the Non-Fiction Category, biographies reign supreme. It was far more difficult to find highly rated Regency and Victorian theme books for the general adult demographic this time around. Better luck  next month. Summaries and reviews are taken directly from the cited sources mentioned above. I have not read any of these and cannot, in good faith, recommend one over the other. However, just at a glance I would love to get my hands on Jane Steele and the Immortal Irishman, already a New York Times Best Seller.
Fiction
Bride of a Distant Isle
by Sandra Byrd
Annabel Ashton returns to her ancestral home, Highcliffe Hall at Milford-on-Sea, hoping to elude her cousin Edward's plans to marry her to his creditor Mr. Morgan. The morally corrupt Morgan gifts Annabel with ominous oddities such as a frog petrified in amber. While Annabel struggles to determine which of her friends will stand by her, her feelings grow for Marco Dell'Acqua, a dashing, mysterious ship captain who shares her mixed Maltese/English heritage and the Catholic faith that upholds her in her distress. Following the genre's traditions, the courageous, capable heroine navigates a number of sinister challenges: family and staff who may or may not wish her well; closets, caves, and attic rooms in which people have been barricaded against their will; speculations of madness; poisoned honey; and personal items from her long-dead mother that strangely appear and disappear.
The Eloquence of the Dead by Conor Brady
A police detective in Victorian-era Dublin catches another case with political ramifications, in a novel by a former editor of the Irish Times. When pawnbroker Ambrose Pollock is murdered in his shop and his sister is nowhere to be found, the police take a beating in the press. The bad publicity is especially painful for Sgt. Joe Swallow, a star in the special plainclothes G-Division whose talents have not yet resulted in the promotion he deserves, perhaps because he's a Catholic in a country still ruled by Great Britain. The pawnbroker has been dead for some time, and clues suggest that his sister may have been involved, but a meeting with an old acquaintance at Joe's painting class links the late Mr. Pollock to another crime. Joe recently ended his relationship with the widow Maria Walsh. Her sister, who teaches the class, is engaged to a friend of his, medical examiner Dr. Harry Lafeyre, and is protective of Maria's claim on Joe. Pupils in the class include old friend Katherine Greenberg, who runs an antiques shop with her father. After Katherine reports that a woman brought in some Greek coins and sold them for a low price, Joe walks in on two men trying to rob the shop and demanding to know who sold the coins. He learns that both the coins and a large amount of engraved silver plate found in the murdered pawnbroker Pollock's cellar came from the Gessel estate, which was recently sold to its tenant farmers under a scheme whereby the government buys the property and allows the tenants to keep the land they farmed. Now that it appears someone's been skimming from various estates, Joe travels to London looking for a person with high authority and enough money to hire the assassins who must be involved.
Jane Steele: A Confession by Lyndsay Faye
"Reader, I murdered him."
A sensitive orphan, Jane Steele suffers first at the hands of her spiteful aunt and predatory cousin, then at a grim school where she fights for her very life until escaping to London, leaving the corpses of her tormentors behind her. After years of hiding from the law while penning macabre "last confessions" of the recently hanged, Jane thrills at discovering an advertisement.  Her aunt has died and her childhood home has a new master: Mr. Charles Thornfield, who seeks a governess.
Burning to know whether she is in fact the rightful heir, Jane takes the position incognito, and learns that Highgate House is full of marvelously strange new residents—the fascinating but caustic Mr. Thornfield, an army doctor returned from the Sikh Wars, and the gracious Sikh butler Mr. Sardar Singh, whose history with Mr. Thornfield appears far deeper and darker than they pretend. As Jane catches ominous glimpses of the pair's violent history and falls in love with the gruffly tragic Mr. Thornfield, she faces a terrible dilemma: can she possess him—body, soul, and secrets—without revealing her own murderous past?
The North Water by Ian McGuire
A dark, brilliant yarn set on a 19th-century Yorkshire whaler in the dead of winter. An ex-army surgeon named Patrick Sumner, his reputation ruined by an ignoble incident in wartime India, seeks to escape his past by shipping out as doctor on the whaling ship Volunteer, bound for the Arctic Circle. But the voyage to the waters north of the British Isle is doomed from the beginning: the men responsible for the ship have no intention of bringing it back in one piece. And if that weren't enough, a debauched murderer named Henry Drax is aboard. The harpooners meet with some success while at sea, whaling, sealing, and capturing a bear cub, but a test of wills begins after the mutilated body of a cabin boy is discovered below deck in a cask used to store minced-up whale blubber. Sumner challenges the suspected culprit, violence ensues, and soon the ship is without leadership. The frozen seas threaten to cripple the ship, and what's left of the crew tries desperately to survive the worst of the winter trapped in the ice.
Playing the Part by Jen Turano
To escape her stepfather's machinations involving his debt and the attentions of Silas Ruff, actress Lucetta Plum gives up a starring role and hides out at the estate of Bram Haverstein, the grandson of a friend. Bram is delighted to have Lucetta land on his doorstep since he has followed her career and admires her work. As Lucetta and Bram become acquainted, Lucetta notices his eccentricities and strange household. Fiercely independent, she has no desire to marry or become entangled in a relationship. However, when Silas shows up to collect his debt, she fears she may never have another chance to tell Bram how she really feels.
Reader, I Married Him: Stories inspired by Jane Eyre by Tracy Chevalier
This collection of original stories by today's finest women writers—including Tracy Chevalier, Francine Prose, Elizabeth McCracken, Tessa Hadley, Audrey Niffenegger, and more—takes inspiration from the opening line in Charlotte Brontë's most beloved novel, Jane Eyre.
A fixture in the literary canon, Charlotte Brontë is revered by readers all over the world. Her novels featuring unforgettable, strong heroines still resonate with millions today. And who could forget one of literature's best-known lines: "Reader, I married him" from her classic novel Jane Eyre?
Part of a remarkable family that produced three acclaimed female writers at a time in 19th-century Britain when few women wrote, and fewer were published, Brontë has become a great source of inspiration to writers, especially women, ever since. Now in Reader, I Married Him, twenty of today's most celebrated women authors have spun original stories, using the opening line from Jane Eyre as a springboard for their own flights of imagination.
Speakers for the Dead by J. Aaron Sanders
The year is 1843; the place: New York City. Aurora reporter Walt Whitman arrives at the Tombs prison yard where his friend Lena Stowe is scheduled to hang for the murder of her husband, Abraham. Walt intends to present evidence on Lena's behalf, but Sheriff Harris turns him away. Lena drops to her death, and Walt vows to posthumously exonerate her.
Walt's estranged boyfriend, Henry Saunders, returns to New York, and the two men uncover a link between body-snatching and Abraham's murder: a man named Samuel Clement. To get to Clement, Walt and Henry descend into a dangerous underworld where resurrection men steal the bodies of the recently deceased and sell them to medical colleges. With no legal means to acquire cadavers, medical students rely on these criminals, and Abraham's involvement with the Bone Bill—legislation that would put the resurrection men out of business—seems to have led to his and Lena's deaths.
Terrible Virtue by Ellen Feldman
Margaret Sanger, the revolutionary fighter for women's contraceptive rights and founder of Planned Parenthood, joins the pantheon of figures whose lives have been turned into historical novels. Born into grinding poverty, Sanger observed, keenly, the toll that pregnancy after pregnancy took on her exhausted mother, who had 13 children. An escape from her childhood home and the opportunity for formal education, both provided by her devoted older sisters, exposed her to the possibilities of a life unfettered by destitution and despair. A devotion to political activism as well as the exploration of all sorts of personal freedoms became the hallmarks of Sanger's tumultuous life, which she narrates in a lively first-person voice, which Feldman occasionally intersperses with sections addressed to Sanger from her nearest and dearest, including children, lovers, and husbands. A spectacular tension between the demands of motherhood and the zeal with which she pursued all of her passions—political as well as sexual—forced Sanger to choose, on more than one occasion, between being present with her children or forging onward in her battle to provide access to birth control, and arguably better lives, for women in dire circumstances similar to those of her childhood.
Non-Fiction
Capturing Jack the Ripper: In the boots of a Bobby in Victorian London by Neil R.A. Bell
During the autumn of 1888 a serial killer stalked, brutally murdering his way through the East End of London. Some called him the 'Whitechapel Monster', while locals referred to him as 'Leather Apron', but to the world he was known as Jack the Ripper.
The responsibility of capturing this 'murderous fiend' fell upon the men of London's Metropolitan and City police forces. Capturing Jack the Ripper will investigate the working lives of these men, and see what it takes to become one of Queen Victoria's police constables, from recruitment to training and on to life as a bobby.
This book provides an insight into police life, as well as an in-depth view of the investigation at the height of the Ripper murders; it provides a rare look at the men who protected the streets, who faced very real dangers every night, who often suffered severe physical injury and who sometimes died; men who faced life in the raw in one of the worst parts of London and who were the first on the scene after a killer had struck.
Charlotte Bronte: A fiery heart by Claire Harman
Famed for her beloved novels, Charlotte Brontë has been known as well for her insular, tragic family life. The genius of this biography is that it delves behind this image to reveal a life in which loss and heartache existed alongside rebellion and fierce ambition. Claire Harman seizes on a crucial moment in the 1840s when Charlotte worked at a girls' school in Brussels and fell hopelessly in love with the husband of the school's headmistress. Her torment spawned her first attempts at writing for publication, and the object of her obsession haunts the pages of every one of her novels–he is Rochester in Jane Eyre, Paul Emanuel in Villette. Another unrequited love–for her publisher–paved the way for Charlotte to enter a marriage that ultimately made her happier than she ever imagined. Drawing on correspondence unavailable to previous biographers, Harman establishes Brontë as the heroine of her own story, one as dramatic and triumphant as one of her own novels.
The Civil Wars of Julia Ward Howe by Elaine Showalter
Julia Ward Howe is often portrayed as the matronly lyricist of the "Battle Hymn of the Republic," but her early reputation as a beautiful young talent earned her the nickname of Diva. Howe's need for attention and difficult personality resulted in a tumultuous relationship with her equally needy and impressive husband, a hero of the Greek Revolution who later founded the Perkins School for the Blind. Showalter argues that the Howes' marriage superficially mirrors the American Civil War, with Howe fighting for her right to write poetry and study philosophy, and losing battles over where she lived and how many children she bore. Nearing 50 and unsuccessful with her speaking engagements, Howe joined the suffrage movement, earning Showalter's designation as a major American heroine. Showalter skillfully reveals the depths of Howe's pain and talent, though she gives only cursory historical context for the abolitionist's racist comments. Nevertheless, Howe's resilience and success in light of her family's efforts to thwart her ambition make her worthy of Showalter's admiring biography.
The Great Departure: Mass migration from Eastern Europe and the making of the free world by Tara Zahra
Zahra examines the political and demographic developments and policies that influenced and were influenced by mass population movements from Eastern Europe to the Americas between the 1880s and the early 21st century. She shows how migration sapped the demographic strength of some pre-WWI empires—for example, 3.5 million people emigrated from Austria-Hungary between 1876 and 1910—though remittances from such families to relatives back home also "expanded peasant landholdings, renovated churches, and provided relief in cases of natural disaster." Zahra relates that during the interwar period, some newly established countries encouraged the emigration of ethnic minorities, while some Polish leaders planned what was euphemistically called an "evacuation" of their country's sizable Jewish population to Madagascar. After WWII, she shows the ways migration policies articulated Cold War propaganda, as when one Polish publication told Polish workers who had sought work elsewhere that "whoever does not return … sentences himself to a life of hopeless exile."
The Immortal Irishman: The Irish revolutionary who became an American hero by Timothy Egan
The story of Thomas Meagher (1823-1867), an Irishman radicalized by the famine who became a hero on three continents. He was a natural-born orator, and his gift encouraged his fellow Irish in hopes of freedom sooner, rather than "in time," as per the Great Liberator, Daniel O'Connell. The author imparts the desperation of the starving families while pointing to the many wealthy Catholics and Protestants who worked to achieve liberty. During the Great Famine, England exported 1.5 billion pounds of grain as well as more beef than any other colony, while millions starved without the blighted potatoes that sustained them. After a fiery speech in Conciliation Hall and a betrayal by John Balfe, the English arrested Meagher an d a handful of others for speaking out. Meagher was sent to Tasmania, and while he was not put into forced labor, he had limited contact with his fellow Irish. Discovering that the traitor Balfe had been given a land grant, he sent an anonymous series of letters to the press, exposing his perfidy. Eventually, with help from his wealthy father, he escaped. His reputation preceded him, and his welcome in America was riotous. His leadership and oration made him a great recruiter of his fellow countrymen during the Civil War. A different side of the Civil War emerges as the author describes the frustrations of war under Gen. George McClellan and the devotion of Meagher's men. Exhausted after Chancellorsville, Meagher resigned and moved to Montana with his wife, where he fought yet again against a rabid vigilance committee.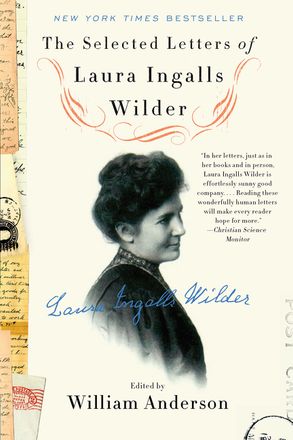 The Selected Letters of Laura Ingalls Wilder by Laura Ingalls Wilder and William Anderson
Biographer and historian Anderson (Laura Ingalls Wilder: A Biography; River Boy: The Story of Mark Twain) draws on archives and personal collections for the more than 400 letters—the last known previously unpublished material—that comprise this glimpse into the inner life of Laura Ingalls Wilder (1867–1957). Renowned for her immensely popular "Little House on the Prairie" series, Wilder first published the stories when she was in her 60s as a response to the Great Depression. Spanning much of her adult life, from 1894 up to the year before her death, these missives comment on family (in particular, correspondence with Wilder's daughter and collaborator, Rose Wilder Lane), the day's current events, Wilder's childhood, and the books that made her a household name. Conversational and affable, Wilder's observations benefit from Anderson's headnotes and a contextual introduction that draws on his vast knowledge of the novelist's achievements. Still, even such a treasure trove of exchanges leaves gaps: "This is only a fraction of her lifetime correspondence," writes Anderson. "Sad to say, many of her letters are lost to history."
Troupers of the Gold Coast: The rise of Lotta Crabtree by Constance Rourke and James Wilson
Troupers of the Gold Coast follows the startup and success of a theater company of the same name that started performing in 1837 at California's First Theater. More than 2,000 actors and actresses performed and trained with the company between 1848 and 2005. Until their last show in 2005, they were the oldest continually performing theater company in the world.
By the time the Troupers found their footing, though, a little girl named Charlotte (Lotta) Crabtree was achieving an early stardom. Since the age of six, she had been performing along the coast for men and women of the Gold Rush. Her mother managed her career, thus ensuring that Lotta was never taken advantage of. She was extremely popular and very successful in acting, singing, dancing, and banjo playing. Lotta, who was named The Nation's Darling," was able to tour the United States and Europe before retiring in her forties.
Troupers of the Gold Coast captures the rise of one America's most beloved entertainers, as well as the formation and excitement surrounding one of the most popular and successful American theater troupes of all time
William Beckford's Fronthill: Architecture, landscape, and the arts by Robert Gemmett
Vilified publicly as a paedophile, William Beckford sought refuge in his Fonthill estate where he amassed works of art fit for a king. He resided initially in a magnificent house called Fonthill Splendens, but then ordered it demolished to fund a work of art on a grand scale called Fonthill Abbey. Four public sales in 1801 and 1807 provided accessibility to Splendens and thousands came to examine the opulent offerings. Then the new structure with its extravagant Gothic interior, extraordinary possessions and scenic landscaping effects began to draw obsessive attention. This interest reached a pitch in 1822 when the entire estate was offered for sale, developing into a 'Fonthill fever' with over 7,000 people gravitating to Beckford's 'Holy Sepulchre'. The book examines Beckford's building, landscaping and collecting habits that led to this remarkable public interest. It identifies, too, the anonymous author of a series of articles in the Morning Chronicle that provide the sights and sounds when the auctioneer raised his hammer to disperse the riches of Fonthill. The building collapsed in 1825, but contemporary drawings and engraved 'views' have continued to keep it alive as an indelible icon of the Romantic period.