Tags
1800s, 19th Century, Architecture, Biography, Edwardian, Indian, Literature, Military, Mystery, Native American, Novel, Pre-Reads, Regency, Romance, Society, Steampunk, Victorian, Western, Women
Turkey is stuffed, the yams are sweet, and the family antics are. . .  questionable. Let's give thanks it will be all over soon, so we can now move on to more important matters, such as the newly published historical titles.–And you thought I was going to say Christmas, didn't you?–The last Wednesday of the month is typically reserved for the hotly anticipated "Pre-Reads Post," which consists of sixteen highly reviewed titles; half being fiction, the other half is non-fiction. I usually comb through over 400 book reviews a month to bring you this list. There is a nice-cross section of 19th century-esque publications. Some are modern spin-offs of classic literature, others envision steampunk fairytales or include novel settings to the growing steampunk cannon. Non-fiction is always more difficult to sort through. November's list include a reprint and a few biographies. All summaries and reviews listed come directly from Library Journal, Publisher's Weekly, Kirkus Review, Baker and Taylor, or Amazon. Each title was published this month, so your local library or book store may or may not have them yet. But feel free to pester them to order it for you. I suggest utilizing the InterLibbrary Loan service, if it is available. Thus said, I have not read any of these books, but I want to read The Bronte Plot, as I have read another book by the author called Dear Mr. Knightley which I found thought-provoking and evocative. I might even dip into the steampunk Snow White out of curiosity. As far as non-fiction goes, The Bulloch Belles! Hands down! Sagas, mini-female biographies, all deliciously true stuff; what's not to love?? Which ones are you eager to pick up to read?
Fiction
The Annotated Little Women by Louisa May Alcott, ed. John Matteson
Since its publication in 1868–69, Little Women, perhaps America's most beloved children's classic, has been handed down from mother to daughter for generations. This lavish, four-color edition features over 220 curated illustrations. Renowned Alcott scholar John Matteson brings his expertise to the book, to the March family it creates, and to the Alcott family who inspired it all. Through numerous photographs taken in the Alcott family home expressly for this edition―elder daughter Anna's wedding dress, the Alcott sisters' theater costumes, sister May's art, and Abba Alcott's recipe book―readers discover the extraordinary links between the real and the fictional family.
The Bronte Plot by Katherine Reay
Lover and seller of rare books Lucy Alling likes to add a little something special to her treasured finds, in order to make the buying and selling of books and memorabilia more lucrative. When her boss begins to suspect Lucy is tampering with the inscriptions and provenance of the books, her unethical embellishments have consequences in her closest relationships. But even as her disillusioned boyfriend, James, retreats, his wealthy grandmother Helen unexpectedly hires Lucy as a literary consultant on a buying trip to London. The idea of visiting the home of the Brontë sisters particularly excites both of them. Once in London, Helen has a secret agenda that helps Lucy consider the morality of her actions, and both must confront their pasts in order to find peace with their decisions.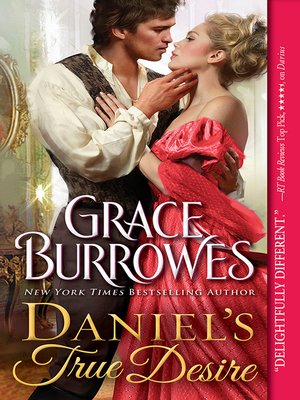 Daniel's True Desire by Grace Burrows
Lady Kirsten Haddonfield, sister of the Earl of Bellefonte, is beautiful, accomplished, and forthright. Her village's new vicar, Daniel Banks, is everything Kirsten could want in a man: kind, humble, and too handsome for his own good. Unfortunately, he also has an estranged wife. While both Daniel and Kirsten acknowledge their attraction to each other, he admirably refuses to break his vows. Kirsten and Daniel continue to behave as friends as she assists him with turning the dower house into a school for the mischievous young men of the village. Yet when circumstances change, they wonder whether they can anticipate a life together.
Murder on St. Nicholas Avenue by Victoria Thompson
Thompson's 18th mystery set in gaslight-era New York City. With series leads Frank and Sarah Malloy away on their honeymoon, their nursemaid, Maeve Smith, agrees to help Mrs. O'Neill, a friend of Frank's mother. Mrs. O'Neill's married daughter, Una, has been charged with killing her husband, Mr. Pollack, after she was found cradling his bludgeoned corpse in their Harlem home. Of course, Mrs. O'Neill is sure her daughter is innocent. When Maeve goes to the Pollacks' home to see if there are any resources to pay for Una's defense, she's dumbfounded to find thousands of dollars in cash in a hidden safe. Police officer Gino Donatelli, who's sweet on Maeve, provides some welcome assistance.
The Sea is Ours: Tales from Steampunk Southeast Asia by Jaymee Goh
The tropes and trappings of steampunk alternate history bind together this exciting anthology of stories set in and inspired by the broadly defined region of Southeast Asia (SEA). The editors deliberately "push back against this idea that we must acknowledge the superiority of the British Empire," and the experience of being colonized is omnipresent but never permitted to define a person or place. Characters appropriate clockwork technology, live in high-rise apartment blocks, and fight guerilla wars, but these familiar elements don't hinder the stories from frequently surprising the reader. For example, Marilag Angway's "Chasing Volcanoes" has classic steampunk airships, but they're powered by volcanoes. The standouts are the three central pieces: Kate Osias's "The Unmaking of the Cuadro Amoroso," in which an enclave of prodigies takes revenge on imperial war machines; Olivia Ho's "Working Woman," reexamining Frankenstein's monster amid the multicultural power brokers of Singapore; and Robert Liow's "Spider Here," a hard-SF adventure with a suicide bomber, illegal fights, and a disabled schoolgirl protagonist. Even the slighter stories have the craft, perspective, and components that merit savoring, and the finest would be worth considering for any year's best anthology.
The Secret Life of Anna Blanc by Jennifer  Kincheloe
In 1907 Los Angeles, women do little except appear decorative, even if they long to match wits with Sherlock Holmes. Anna Blanc just wants some adventure in her life. Her attempt to elope is thwarted by her father, who then saddles her with a no-nonsense chaperone. Anna discovers Mrs. Crisp is susceptible to bribery and suddenly freedom looms. Anna takes a job as an assistant police matron and is horrified when the department refuses to investigate a string of brothel murders, so she decides to look into the "suicides" herself.
Six-Gun Snow White by Catherynne N. Valente
Valente reimagines "Snow White" as a story set in an extravagantly imagined Wild West and propelled by a sharpshooting, half-Crow heroine. Snow White is the daughter of Mr. H, a greedy man who made his fortune on Nevada silver mines and married a woman of the Crow people named Gun That Sings as a way to possess her beauty completely. When Gun That Sings dies in childbirth, her daughter is left to a lonely childhood cloistered in luxury and often neglected by a father embarrassed by the reality of her half-Crow, half-white heritage. Mr. H remarries, and his new wife, a cruel woman with mysterious and unpleasant powers, gives her stepdaughter the name "Snow White" as an insult against her darker skin. Snow White endures outrageous and inventive abuse of mind and body until she grows up and finds herself a young woman with the grit and fierceness necessary to run away and discover her own life.
A Talent for Trickery by Alissa Johnson
Viscount Owen Renderwell, once one of Scotland Yard's greatest thief-takers, arrives at the secret home of Charlotte "Lottie" Walker, whose father, Walter, was a thief turned informant who recently died. Owen hopes to search Walter's journals for clues to encrypted letters found where a London madam was murdered, but needs the support of his old crush Lottie. She hates Owen for his role in her father's death, and she wishes to hide her family's criminal past from her younger brother, Peter, as well as keeping the details of her own involvement from Owen. Night work on secret codes brings Lottie and Owen enticingly close, but a stalker in the woods leads Owen to dedicate himself to catching the criminal, while young Peter is determined to take on a man's protective role.
Non-Fiction
1814: America forged by fire by Willard Sterne Randall
Few people today realize that the United States's sovereignty was not assured until 1814, when England acknowledged it with the Treaty of Ghent. In fact, earlier that same year, the prospects for America couldn't have looked bleaker: a ruined economy, a feeble army, and serious talk of secession by the New England states all threatened its existence. By years end, however, the young nation was at peace, poised for expansion to the west, never to go to war against Britain again. How did this remarkable transformation happen? Drawing from rarely used source material, award-winning historian Willard Sterne Randall brilliantly re-creates the dramatic chain of events that prevented the nation from falling into British hands. From Dolley Madison with a telescope on the roof of the White House to Francis Scott Key penning the national anthem on an envelope, Randall's work firmly establishes 1814 as a seminal year that should be celebrated alongside 1776 in our history.
The Bulloch Belles: Three First Ladies, a spy, mother of a president's mother, and other women of a 19th century Georgia family by Walter E. Wilson
The Bulloch women of Roswell, Georgia, were not typical antebellum Southern belles. Most were well educated world travelers skilled at navigating social circles far outside the insular aristocracy of the rural South. Their lives were filled with intrigue, espionage, scandal, adversity and perseverance. During the Civil War they eluded Union spies on land and blockaders at sea and afterwards they influenced the national debate on equal rights for women. The impact of their Southern ideals increased exponentially when they integrated into the Roosevelt family of New York.
Buffalo Bill, Boozers, Brothels, and Bare-Knuckle Brawlers: An Englishman's journal of adventure in America by Kellen Cutsforth
The travel journal of the wealthy young Englishman, Evelyn Booth, weaves a factual, enthralling, and entertaining narrative that follows his escapades throughout the United States of the late nineteenth century. Transcribed and edited (with relevant commentary for contemporary audiences) by Kellen Cutsforth, Booth's journal reveals his career as a young care-free "frat boy" with unlimited funds, gives first-hand accounts that involve drunken nights, fist fights, illicit sex with prostitutes, sporting events, and full-blown adventures with the most well-known celebrities of the day, including encounters with famous scout and showman William Frederick "Buffalo Bill" Cody and the Wild West Cowboys; bare knuckled world champions John L. Sullivan and Jack "Nonpareil" Dempsey; Fred Archer, the most famous horse jockey of the day, and prostitutes, gamblers, and infamous houses.
City on a Grid: How New York became New York by Gerard Koeppel
Historian Koeppel continues his examinations of New York–centric infrastructure with a look at the story behind the development of New York City's extraordinary 1811 street grid plan, which "defined the urbanism of a rising city and nation." Devastated by the 9/11 attacks, Koeppel launched his expert investigation into what made the city special, using a photo from the early 1880s of early Manhattan that showed the grid—"a rectilinear plane of many parallel streets crossed at right angles"—in the midst of the newly developing Upper East Side neighborhood now known as Carnegie Hill. Koeppel is fascinated by the history of old New York; Manhattan's grid, conceived by city planner Casimir Goerck and French designer Joseph François Mangin, came to make it both a "congested place" and an "orderly place of energy and industry." Mangin's plan met stout resistance from city commissioners and faced several challenges, but without any political alternative, it survived, sparking an influx of population and commerce.
Empire of Mud: The secret history of Washington, D.C. by J.D. Dickey
Certain adjectives spring to mind when reading this eye-opening, in-depth look at the history of America's capital city in the 19th century: sordid, squalid, tawdry, filthy, and corrupt. Dickey pulls no punches as he examines the dark side of the District's misspent youth, from its origins as a compromise carved from several states to its evolution into "a fiefdom ruled by national politicians"—one whose "citizens were denied the right to vote for those politicians." Dickey covers every vice: murder, mayhem, political infighting, prostitution, incompetence, greed, dueling, slavery, and of course, war. Given the bleak portrait he paints of a city perpetually on the edge of chaos, where gangs clash and crime flourishes, where disease runs rampant, where civic projects and grandiose plans languish for decades, it's amazing that the city survived long enough to endure its slow transformation into a real city—albeit one lacking certain rights and representation. Even as Dickey expresses a wistful nostalgia for long-vanished neighborhoods, he bemoans the District's unique political nature.
Life in the Far West: A true account of travels across America's wilderness by George Frederick Ruxton
George Frederick Ruxton was an explorer and adventurer extraordinaire. Born in England in 1820, he followed in his family's footsteps and entered the military at the age of thirteen. He quickly became a decorated soldier, serving in Spain, where he fought for Queen Isabella II in the Carlist civil war and was made a Spanish knight at seventeen, as well as in Ireland and Canada. But the rigidity of military life was not for him. In 1843 Ruxton followed his wanderlust; he sold his commission and roamed freely for a season through the remote woods of southern Canada and northern New York, hunting and living off the land. Ruxton never forgot his travels through remote America, and, after journeying through Africa, he would return in 1847. Starting in Mexico and the new American southwest territories, Ruxton would go on to travel more than two thousand miles, finally reaching present-day Colorado. Upon returning to England, Ruxton, using the pen name La Bonté, would begin to detail his travels through articles under the title Life in the Far West. First published in book form in 1849, Life in the Far West describes the amazing true adventures of George Frederick Ruxton as he forges a path through the yet-untamed wilderness of a young America, seeing firsthand the relationships between the US Army and Comanche Indians and the incredible lifestyles of Colorado mountain men.
Red Brethren: The Brothertown and Stockbridge Indians and the problem of race in early America by David J. Silverman
Silverman explores the history of Brothertown and Stockbridge, two Native American communities established in the 1780s in New York. The inhabitants originally hailed from New England and had adopted Christianity in the early 18th century, believing that their conversion would allow them to become equal to whites through cultural accommodation. Never truly accepted because of their ethnicity, the Native Americans developed racial attitudes of their own toward Africans. Despite becoming "civilized," the residents of the two towns were forced to migrate to Wisconsin in the 1820s. Efforts were soon underway to seize their lands by forcing them to Kansas. In response, the Brothertown people renounced their native identity and, in their own eyes, became white through U.S. citizenship in 1839. They quickly rediscovered that they continued to carry an inescapable racial stigma.
This Victorian Life: Modern adventures in nineteenth-century culture, cooking, fashion, and technology by Sarah Chrisman
We all know that the best way to study a foreign language is to go to a country where it's spoken, but can the same immersion method be applied to history? How do interactions with antique objects influence perceptions of the modern world? From Victorian beauty regimes to nineteenth-century bicycles, custard recipes to taxidermy experiments, oil lamps to an ice box, Sarah and Gabriel Chrisman decided to explore nineteenth-century culture and technologies from the inside out. Even the deepest aspects of their lives became affected, and the more immersed they became in the late Victorian era, the more aware they grew of its legacies permeating the twenty-first century. Most of us have dreamed of time travel, but what if that dream could come true? Certain universal constants remain steady for all people regardless of time or place. No matter where, when, or who we are, humans share similar passions and fears, joys and triumphs.