We have reached the half way mark to the wedding. It comes with a whirl of emotions from excitement, anticipation, eagerness, and frustration over the measured pace of the planning. Tomorrow, my planner and I are off to visit the Florists to go over blooms and blossoms.
A Victorian wedding is renown for its profusion of flowers. The abundance of flora is indicative of the Romantic Movement in aesthetics, aside the fact it was England (which is famous for its flowers). In a standard high end Christian Victorian wedding, there were flower arches inside and outside the church, pew flowers or pomanders, vases or baskets of blooms flanking the alter, with petals strewn about the aisle by the flower girls. The reception, more often was held at a home bedecked in more blossoms and greenery; garlands gracefully draped over stair railings or fireplace mantels, adorning all the tables were elaborate center pieces, and vases of such were also placed near columns. It did not end there, the bride's dress might have "pick-ups" pinned with roses, flowers in the hair were quite common for many of the females in the wedding party. Flower crowns or wreaths were given to the flower girls. Obviously, there were the bridal bouquet, bridesmaids bouquet, boutonnieres, and Mothers and grandmother's corsages. Fresh flowers were also seen on hats of wedding guests and used to decorate the wedding cake. Even the get-away carriage was festooned in blooms. In short, they were EVERYWHERE!
My own wedding will not resemble floral Victorian wedding for various reasons. The most important, My Fiancé and his family are deadly allergic to just about everything that grows from the ground. I have never met a group of people with such wicked allergies. To save them from the itchy, sneezing, wheezing, running nose, watery eyes, and hives, I am opting for very few fresh flowers. There will be a healthy mix of silk flowers, craft flowers, and quasi-flowers.
I am requiring the florist to incorporate purple and yellow pansies (my favorite flower, for which inspired my wedding colors), orange blossoms (the quintessential Victorian wedding flower) and a pleasing amalgamation of deep purple and lavender blooms. My bouquet will not be a tightly bound dome-shaped bundle, but something a little more loose and wild. No cascade for me either; far too heavy. It will be mix of silk and fresh.
As a lover of contrast, my Maid of Honor will be wearing a lavender dress, so I am pairing her with deep purple bouquet. While, my brides maids are donning deep purple frocks, so their bouquet will be lavender. The maids will have real-live flowers. The flower girl will be tossing both tints and shades of purple petals down the aisle. The flower girl might end up with silk petals or a mix of both.
My Fiancé, the groomsmen, the ring-bearer, the fathers and my brother will be fitted with craft roses in their buttonhole. It keeps the fresh flowers away from My Fiancé's face. I have a friend who is making these for me, as I am not a crafty person.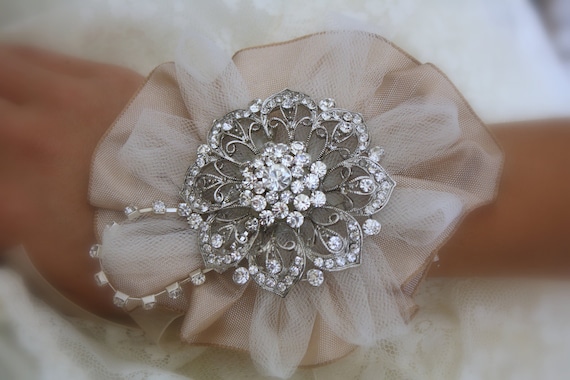 The mother's will slip on brooch-corsages, fashioned with ribbons made to look floral and enhance the pin. It gives a bit of a vintage flair and will match their contrasting metallic gowns. Again, this was done with my mother-in-law's allergies in mind. Surprising, my own mother really loved the idea based on its practicality. She was thrilled that I am allowing the mothers to pick out their own brooch. She said she could "re-wear the brooch on another dress, jacket, coat, shrug, hip, belt, hair-piece, cardigan, hat, clutch, or purse. I want it to be beautiful! I want to always remind me of my daughter's wedding! I want to be buried in it!" Wait–what?! Good heavens, woman! That escalated quickly! While, I am glad she is thinking long-term, that is a tall order for a lil brooch. We shall see what we end up with.
Decorative flowers will consist of silk blooms to decorate the fireplace mantel. The aisle might also have some residual petals near the "pew chairs," prior to the flower girl's entrance. I am setting up a spectacular escort card table for the cocktail hour that will need many fresh and silk flowers.
I am lucky to use my Fiancé and his family as a (legitimate) excuse to pair down the flowers. To be quite honest, I find the floral budget a colossal waste of money. Do not misunderstand me, I think flowers are absolutely beautiful and gorgeous and completely alter the ambiance of the wedding experience. Thus said, as a person rooted in practicality and a brown thumb, I do not have the appreciation for flora, as others might. My wedding will be allergy free as much as possible, so I know for sure that the tears during the ceremony are ones of joy and not induced by pollen.