April is showering us with a plethora of new and highly reviewed fiction books!  So much so that it took me a few days to narrow down the list for our Monthly Pre-Reads. Truly. Below are sixteen newly published or soon-to-be published titles; eight fiction and eight non-fiction. I typically scour Baker and Taylor's vault as well as Publisher's Weekly, Kirkus Review, Library Journal, and Amazon for reviews and suggestions. Thus all summaries and reviews below are directly taken from these publications. I try to make sure a variety of genres and subgenres are represented. In full disclosure, I have not read any of these but there are a few I placed on My-To-Read-List. At the moment I am reading the Bostonians by Henry James, the classic is far from newly published, but I digress. Get your quill and paper ready to jot down some new titles! Take your list to the local bookstore or library to request for purchase. Yes, I encourage this "pester-some" activity in my readers. Always, an informed patron than an uninformed one, I say! Which titles are you most interested in?
Fiction
Deception on Sable Hill by Shelley Gray
Eloisa Carstairs is a beautiful and desirable young woman with a terrible secret. Although she moves in Gilded Age Chicago's high society, she eschews male attention, scarred by her recent trauma. That is, until she meets handsome Det. Sean Ryan. Their mutual attraction is instant, but their unequal social standing is an obstacle. However, Eloisa soon confides in Ryan about the assault she endured, and he swears to protect her at all costs. His faith in Jesus and the power of prayer strikes a chord in Eloisa, but a serial killer targeting society women puts their romance on hold.
The Fifth Heart by Dan Simmons
In Paris in 1893, Sherlock Holmes and Henry James join forces in this outstanding novel from Simmons, who has concocted something far from the usual pastiche, with a historical figure standing in for Dr. Watson. James, the distinguished American author, is about to kill himself by plunging into the Seine, overcome by crippling depression. Just before stepping off le pont Neuf, he notices a man with an aquiline profile standing nearby; he quickly ascertains that the man is actually Holmes, believed to have perished with Professor Moriarty at the Reichenbach Falls two years earlier. James is shocked to learn that Holmes was himself on the verge of taking his own life—because the detective has discovered that he's merely a "literary construct." His evidence? The same inconsistencies in the original Conan Doyle stories that have provided fodder for Sherlockians for a century. This chance meeting dissuades both men from committing suicide, and they resolve to travel to America and investigate the purported suicide of diplomat Henry Adams's wife, Clover, in 1885.
A June of Ordinary Murders by Conor Brady
At the start of Brady's first novel, a vivid and crafty whodunit set in 1887 Dublin, the city is gearing up for its celebration of Victoria's Golden Jubilee, a landmark not universally popular in a country where many citizens object to giving "loyalty to a foreign queen." Just days before Victoria's eldest grandson, Prince Albert Victor, and his younger brother, Prince George, are due to arrive in Dublin to represent the monarch, a man and a young boy are shot to death and their faces badly mutilated. Det. Sgt. Joe Swallow investigates. Despite the difficulties in identifying the victims, the press takes him to task for a lack of progress. Meanwhile, the death of the local crime matriarch, "Pisspot" Ces Downes, sets the stage for a bloody battle among rivals to assume control of the criminal underworld.
Kiss the Earl by Gina Lamm
A modern girl's guide to seducing Mr. Darcy
When Ella Briley asked her lucky-in-love friends to set her up for an office party, she was expecting a blind date. Instead, she's pulled through a magic mirror and into the past…straight into the arms of her very own Mr. Darcy.
Patrick Meadowfair, earl of Fairhaven, is too noble for his own good. To save a female friend from what is sure to be a loveless marriage, he's agreed to whisk her off to wed the man she truly wants. But all goes awry when Patrick mistakes Ella for the would-be bride and kidnaps her instead.
Centuries away from everything she knows, Ella's finally found a man who heats her blood and leaves her breathless. Too bad he's such a perfect gentleman. Yet the reluctant rake may just find this modern girl far too tempting for even the noblest of men to resist…
Lincoln's Billy by Tom Leclair
Abraham Lincoln's law partner, William Herndon, wants to "provide a naturalistic and profound analysis of how different traits combine to form a complex individual" when he writes the great man's biography.Lincoln's a martyr. Herndon wants the Emancipator's story told by someone other than "religion-based hagiographers." After all, Lincoln was an "infidel," a nonbeliever. Is Herndon reliable, or is he "Judas in Springfield"? Herndon's Lincoln employed his "Kaintuck" mannerisms when useful, offered stories, some ribald, punctuated by a "high whinny laugh," but he was always "forthright, frank, true, plainspoken." Neglecting his law practice, Herndon sets out to "wage my own civil war against a confederacy of secessionists from the truth," only to grow bitterly frustrated over betrayals by Lincoln intimates and then by Jesse Weik's Herndon's Lincoln, a collaborative effort for which Herndon received little recognition or compens ation. The narrative is easily followed, conversational rather than riddled with the 19th century's florid verbiage, with Lincoln rendered as a man in full, especially as Herndon relates Lincoln's fractious relationship with his father, his deep love for Ann Rutledge, and his stuttering courtship and marriage to Mary Todd. It is, however, from escapades during Lincoln's flatboat trips to New Orleans as a young man that Herndon proposes reasons far different from the apocryphal observation of a slave auction that shaped Lincoln's opposition to slavery. Herndon's a sympathetic though flawed observer, intent on truth-telling—Lincoln not as "a prairie demigod or Christian saint."
Mist of Midnight by Sandra Byrd
Missionary daughter Rebecca Ravenshaw returns to England, a grown woman bereft after her parents' death in a violent uprising in India. She is met with suspicion when she arrives at Headbourne to claim her family estate, however, since another young woman had already assumed ownership months earlier, claiming to be the true heir. This imposter died soon afterward, and a distant male relative had been summoned to take over the inheritance. This man, Captain Luke Whitfield is handsome and charming, certainly, but is he trustworthy? Does he play the affable host while planning yet another heiress's demise, or will he prove worthy of Rebecca's trust—and affection? As the plot thickens and strange incidents occur, Rebecca draws on her well-grounded Christian faith to combat her growing fear. Intriguing secondary characters and lush scenery contribute to the often sinister, even creepy, moments readers will come to anticipate.
The Thunder of Giants by Joel Fishbane
Engaging work of historical fiction about Anna Swan, who was born in a log cabin in Canada in 1846 and grew to be 7′ 5″ tall. Swan became known as "The Giantess of Nova Scotia" and was a featured celebrity at P.T. Barnum's New York museum while also touring as part of Barnum's "Human Marvels" traveling show. Fishbane renders this rather sensationalist story with gentle humor and warm humanity, handling Swan's relationships with family members, the curious public, and romantic partners with considerable compassion and sympathy. Interwoven with the woman's story is the complementary story of Andorra Kelsey, also very tall (7′ 11″), who was brought to Hollywood in 1937 to star in a movie about Swan.
The Witch of Painted Sorrows by M.J. Rose
This haunting tale of possession, set in 1894 Paris, from bestseller Rose (The Book of Lost Fragrances) inaugurates a new trilogy. "I did not cause the madness, the deaths, or the rest of the tragedies… I had help." So says New York socialite and artist Sandrine Salome, who bears the scars of her first traumatic experience with love. At 15, she was caught, naked, with 18-year-old Leon Ferre. When Leon's father learned of the nature of their relationship, he slapped his son, accidentally triggering a fatal asthma attack in the boy. Ten years later, to escape her treacherous husband, Sandrine flees New York for her grandmother's home in Paris, where her grandmother reminds Sandrine that the City of Lights is "poison" to her. Sure enough, Sandrine finds herself taken over by the spirit of La Lune, the woman of "moon dreams, of legends and of nightmares."
Non-Fiction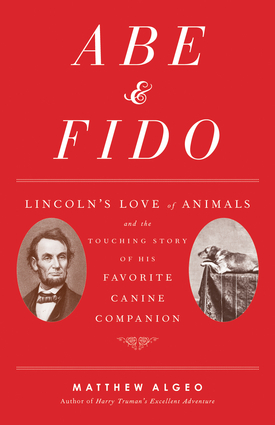 Abe and Fido: Lincoln's Love of Animals and the Touching Story of His Favorite Canine Companion by Matthew Algeo
In early 1861, as he prepared to leave his home in Springfield, Illinois, to move into the White House, Abraham Lincoln faced many momentous tasks, but none he dreaded more than telling his two youngest sons, Willie and Tad, that the family's beloved pet dog, Fido, would not be accompanying them to Washington. Lincoln, who had adopted Fido about five years earlier, was afraid the skittish dog wouldn't survive the long rail journey, so he decided to leave the mutt behind with friends in Springfield.Abe & Fido tells the story of two friends, an unlikely tandem who each became famous and died prematurely. It also explores the everyday life of Springfield in the years leading up to the Civil War, as well as Lincoln's sometimes radical views on animal welfare, and how they shaped his life and his presidency. It's the story of a master and his dog, living through historic, tumultuous times
The Bronte Cabinet: Three Lives in Nine Objects by Deborah Lutz
Applying "thing theory" to the lives and literary legacy of the Brontës, Lutz (Pleasure Bound) skillfully uses the titular nine objects to explore the relationship between the sisters' world and their fiction. For instance, the miniscule volumes in which the Brontë sisters and their brother, Branwell, recorded their juvenilia (fantasies set in the worlds of Angria and Gondal), prompts discussion of the dearness of printed books in the early 19th century and the consolation that so many Brontë characters find in reading and owning books. A sampler made by Anne, meanwhile, is tied to the many types of needlework and knitting by which Brontë heroines contribute to their households. A chapter on each sister's portable writing desk as a "personal space safeguarding secrets" contrasts Charlotte (who craved affection) with Emily (who was "deeply reserved"). Lutz bolsters her observations with abundant references to the Brontës' novels, poetry, and letters, proving especially insightful on Wuthering Heights. She muses on Emily's special relationship with the nearby moors (in connection with Branwell's walking stick), and on the imagery of death and the afterlife that laces the novel (elaborated from locks of the Brontës' hair kept as death mementos).
Jacksonland: Presiden Andrew Jackson, Cherokee Chief John Ross, and a Great American Land Grab by Steve Inskeep
So large has Andrew Jackson loomed in American history that an entire era is named for him, but NPR Morning Edition cohost Inskeep (Instant City) tames this outsized personality and brings fresh insight to the events leading to the Trail of Tears. Inskeep sets Jackson alongside the Cherokee leader John Ross in a nuanced dual biography that tells a compelling story of how democracy in the early-19th-century United States developed at the expense of Native American rights and land. The narrative alternates between the lives of Jackson and Ross, leading up to their final confrontation over Cherokee land in the state of Georgia, and Inskeep takes into consideration their "two different and mutually exclusive maps" of the territory. Ross believed he could secure a place for his people within the growing U.S. by emphasizing what Cherokees and whites had in common. But once gold was discovered in Georgia around 1829, this became a moot point, and Jackson signed the Indian Removal Act with a chilling ease. Dejected Cherokees abandoned Chief Ross, concluding that life across the Mississippi might be the best they could hope for.
John Muir and the Ice that Started a Fire: How a Visionary and the Glaciers of Alaska Changed America by Kim Heacox
A riveting biography of John Muir (1838–1914), America's foremost "naturalist, activist, and pacifist." Examining Muir's legacy and recounting how his vision altered America's perception of the natural world, Alaska-based author Heacox (The Only Kayak: A Journey into the Heart of Alaska, 2005, etc.) ably explores the story of the man who changed popular attitudes toward the American landscape. Told chronologically in four parts, Heacox begins in 1879 with Muir's "watershed" trip to Alaska, the first of seven he would make. Traveling by canoe with a group of Tlingit natives, Muir first glimpsed Glacier Bay, where he saw "the imposing fronts of five huge glaciers flowing into the berg-filled expanse of the bay." Toggling between Muir's life story and the popular culture of his time, Heacox creates a fully formed portrait of this American icon. A well-known cast of characters graces the pages of the author's narrative, including the nature writer John Burroughs, President Theodore Roosevelt, photographer Edward Curtis, author Mark Twain and the man who would become Muir's nemesis, the nation's chief forester, Gifford Pinchot. Pinchot viewed the forest as an asset to be managed for wise use and harvested regularly, while Muir valued the aesthetics supplied by untouched landscapes. His books and magazines greatly influenced popular opinion about mountains, forests and glaciers. Moreover, he "may have been the first naturalist to ascribe glacial retreat to global warming." Though Muir made "no major peer-reviewed contributions to the science of glaciology," he would be, writes Heacox, "what Jacques Cousteau would be to the oceans and Carl Sagan to the stars." The author concludes with a moving epilogue artfully stitching Muir's legacy into the 21st century and the issues presented by climate change and its perils.
The Madman and the Assassin: The Strange Life of Boston Corbett, the Man Who Killed John Wilkes Booth by Scott Martelle
As thoroughly examined as the Civil War and the assassination of Abraham Lincoln by John Wilkes Booth have been, virtually no attention has been paid to the life of the Union cavalryman who killed Booth, an odd character named Boston Corbett. The killing of Booth made Corbett an instant celebrity whose peculiarities made him the object of fascination and derision. Corbett was an English immigrant, a hatter by trade, who was likely poisoned by the mercury then used in the manufacturing process. A devout Christian, he castrated himself so that his sexual urges would not distract him from serving God. He was one of the first volunteers to join the US Army in the first days of the Civil War, a path that would in time land him in the notorious Andersonville prison camp, and eventually in the squadron that cornered Booth in a Virginia barn. The Madman and the Assassin is the first full-length biography of Boston Corbett, a man who was something of a prototypical modern American, thrust into the spotlight during a national news event—an unwelcome transformation from anonymity to celebrity.
The Obelisk and the Englishman: The Pioneering Discoveries of Egyptologist William Bankes by Dorothy U. Seyler
One of the first Europeans to document the ruins of ancient Egypt.A college friend of Lord Byron, a gifted painter and avid art collector, Bankes was a pioneer of archaeology. Handsome and witty, he was also gay in an era when that was a capital offense in Britain. He attended Cambridge, served a term in Commons, and in 1813, decided to see life outside England. He headed first to Spain and Portugal and began collecting art, much of it still on display in his Dorsetshire home, Kingston Lacy. In 1815, he decided on a voyage up the Nile. There, he copied art and inscriptions in tombs and temples and made careful notes of their layouts. With a few companions from his Nile trip, Bankes traveled to Palestine, disguising himself as an Arab to gain entry to sites where Europeans were unwelcome. Returning to Egypt, he made an even longer journey up the Nile, visiting numero us sites and copying inscriptions, including an important list of kings from a temple in Abydos. His careful documentation facilitated the eventual decoding of hieroglyphics. In 1820, he returned to England, where his travels brought him brief fame—but his failure to write up his discoveries denied him real recognition. In 1833, he was caught in a compromising position with a soldier. With the help of influential friends, he was acquitted, and he managed to keep a low profile until 1841, when he was arrested a second time. He fled the country and spent his final years in Italy, still buying art to send back home.
Revolt at Taos: The New Mexican and Indian Insurrection of 1847 by James Crutchfield
Crutchfield extends his investigation further than the reports of the prevailing Americans and Texans, delving deeper into the January 1847 Taos Revolt by pueblo Native Americans and New Mexicans, whose allegiances still lay primarily with Mexico despite the surrender of the armed forces of the former Mexican governor in August 1846 as part of the larger Mexican-American War. The assassination of Charles Bent, the newly appointed territorial governor of New Mexico, resulted in a large armed conflict of Taos Pueblo and Mexican-identifying peoples against the U.S. Army. Yet U.S. civil law was used to charge (and ultimately hang) leaders of the insurrection for treason against America after a jury trial by relatives of the American victims in May 1847. Crutchfield employs original documentation and period news reports to trace modern perceptions of the Taos Revolt as influenced by later writers, including novelist Willa Cather, whose Death Comes for the Archbishop vilified Taos priest Padre Antonio José Martinez.
Texas Rising: The Epic True Story of the Lone Star Republic and the Rise of the Texas Rangers, 1836-1846 by Stephen Moore
As a tie-in with a forthcoming History Channel series of the same name, this account focuses on colorful description rather than analysis, effectively conveying the brutality of combat on all sides. Early on, Moore emphasizes how Texans justified the revolution in terms reminiscent of the American Revolution, with Mexican dictator Santa Anna depicted as the despot and Texans as the founding fathers. Beyond that, however, the author provides little to help understand the broader context of the feuding. The way in which happenings in Texas relate to Mexican history receives minimal attention, and the relationship of what occurred in Texas to events in the United States, from which most of these fighters migrated, remains unclear.